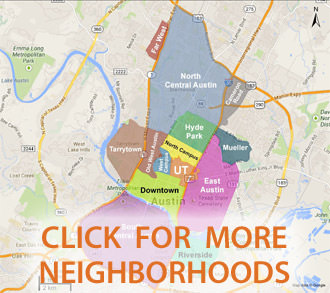 West Campus (also known as West University) is the heart of off-campus living, just steps from UT Austin and home to a plethora of restaurants, shops, services, and (of course) apartments and condos. This geographically constrained area is one of the most unique student neighborhoods in the country, and it's been the preferred location for UT student living for more than a half century. 17,000+ people (mostly college students) live in this neighborhood, which is roughly ten blocks wide by ten blocks long, making it one of the densest neighborhoods in Texas. More than 50 Greek organizations and many of the 1,100+ student organizations registered at UT reside in West Campus.
This historic neighborhood, which is especially popular with undergraduate students, is lively, very walkable, and the second most bike-friendly area in Austin (North Campus is number one; bike maps available here). The popular Guadalupe Street commercial area that serves as a gateway to UT's main campus is known as "The Drag", which is a reference to a bygone era when the street served as the main corridor for horses to drag carriages of students or faculty to UT. Sidewalks abound and there are protected bike lanes on Guadalupe Street and Rio Grande from MLK Blvd to 24th Street.
The location of West Campus is second to none. It borders UT, so most students walk to campus (the longest possible walk would be from Lamar Blvd, the neighborhood's western boundary, and even that's just 0.7 miles to campus which is a 15 minute walk or 5-6 minute bike ride). In fact, pedestrian traffic along The Drag is four times higher than any other area in Austin. If you live near Dean Keeton, it's less than a quarter mile to the Moody College of Communication and less than a half mile to the Cockrell School of Engineering. From the southeastern part of the neighborhood, it's only a quarter mile to the Perry-Castañeda Library (PCL); a third of a mile to the McCombs School of Business, Gregory Gym, and the Student Activity Center; and a half mile to the DKR football stadium (view the UT campus map to determine the most convenient west campus location for you to live). The Texas State Capitol is a half mile away, it's less than a mile to 6th Street, and only 1.5 miles to the beloved Lady Bird Lake Hike and Bike Trail. Just about anything a UT student could want or need, is either in the neighborhood or a quick bus ride away.
While classes are not held in West Campus, UT Austin does actually have a few buildings in the neighborhood, such as the International Office and the Walter Webb Hall which is home to UT's Visitor Center and is where campus tours begin.
Public transit options are excellent in West Campus, and they are free for UT students. If you prefer to ride a bus to class or there's inclement weather, the West Campus UT Shuttle (Capital Metro Route 642) makes a counterclockwise loop around the neighborhood and campus with a frequency of every six minutes during peak hours (click here to learn about the UT Shuttle system, or here to view the locations of the West Campus shuttle stops). Also, more than a dozen Capital Metro buses stop along The Drag. The MetroRapid Routes 801 and 803 are the best – they have free onboard Wi-Fi, traffic signal technology to extend green lights a few seconds when running behind schedule, and they utilize Transit Priority Lanes downtown. Below are the MetroRapid commute times from the UT West Mall Station to some popular destinations (for the destinations north of campus, you could actually use the UT Dean Keeton Station instead and shave two minutes off the estimate).
MetroRapid Commute Times from UT West Mall Station:
Texas State Capitol: 3-5 minutes (#801 southbound)
6th Street / Republic Square Park: 6-9 minutes (#801 southbound)
The Triangle: 9-13 minutes (#801 northbound)
Central Market: 9-16 minutes (#803 northbound)
Auditorium Shores: 10-15 minutes (#801 southbound)
South Congress: 15-20 minutes (#801 southbound)
H-E-B on Burnet Rd: 17-26 minutes (#803 northbound; if you live close to Lamar, taking Route 338 to the Hancock Shopping Center H-E-B may actually be faster)
Walmart Supercenter & Northcross Mall: 21-30 minutes (#803 northbound)
If you need to return to West Campus from downtown late at night, you can hop on the #410 E-Bus or #481 Night Owl from 6th Street as late as 3:00 a.m. And if you ever need to catch a flight, just walk to the football stadium to catch the #100 Airport Flyer bus (it picks up from the northeast and southwest corners of the stadium, as well as from MLK and San Jacinto Blvd).
Given the tremendous location of West Campus and its accessibility to public transportation, many UT students thrive here without a car. The Zipcar and car2go services are available in the campus area if you ever need to make a quick trip in a vehicle. There are also a couple B-Cycle bike rental stations on The Drag.
The University of Texas and City of Austin recognize the importance of West Campus. In its Master Plan, UT indicates that the "West University Neighborhood is becoming a de facto university housing precinct" and pledges to "develop a deliberate strategy around engagement and investment in the West University Neighborhood as a major university housing village". The City, meanwhile, has developed a comprehensive plan that positions West Campus to become part of a contiguous Regional Center that also includes UT and downtown.
Besides undergraduate UT students, who else lives in West Campus? Some graduate students reside here, although most prefer quieter nearby neighborhoods such as North Campus and Hyde Park. Young professionals, some UT faculty and staff members, and Austin Community College (ACC) students who attend the downtown Rio Grande Campus (just 0.4 miles from the southern border of the neighborhood) also call West Campus home.
Greek life is centered in West Campus, as people who have experienced the famous Round-Up weekend in the spring undoubtedly know. Approximately 90% of fraternity and sorority houses are in West Campus, and about 80% of Greek houses in the neighborhood are concentrated between 24th and 28th ½ Street.
An eclectic mix of properties is found in West Campus. Before the University Neighborhood Overlay (UNO) Plan was passed 2004, the neighborhood was mostly comprised of single family houses and duplexes built in the first half of the 20th century, and two to three story apartments and condos built in the 1970s to 1980s. The UNO changed the zoning in the area, in an effort to attract UT Austin students to live close to campus in a dense urban environment. As a result, developers were given the green light to construct high-rise residential buildings in West Campus. Since 2004, the UNO has proven to be very successful, and 35 new multi-story residential complexes have been built in the neighborhood, some of which offer S.M.A.R.T. Housing units.
All the new construction in West Campus has raised the bar for student living, and many complexes have amenities galore such as a gym, pool, business center, key fob entry, game room, tanning beds, basketball court, rooftop lounge, and gated garage parking. Some students really value these on-site amenities, while other students don't think it's worth paying for amenities that already exist on campus (the Texas Unions and UT RecSports have some world-class facilities, for example). Leasing at a modern corporate apartment affords you with many luxuries (and free internet and cable in many instances), and can allow you to sign a by-the-bed lease and take advantage of optional roommate matching (Riverside is the other neighborhood where roommate matching is prevalent). However, corporate apartments typically require you to sign an installment contract and they often charge around $100 per month for West Campus garage parking if you bring a car. The advantages of leasing at a condo or non-corporate apartment (which use a conventional lease) include pro-rated rent, free parking (typically), free water and trash at some condos, as well as lower rent assuming it's not a new construction. The vast majority of properties in West Campus require a 12 month lease. For a 6 month or semester lease, you'll have the best selection in neighborhoods a little farther from UT, such as Far West, Mueller, Cameron Road, Riverside, North Central Austin, and South Central Austin.
Many properties in West Campus have a double occupancy up-charge of $50 to $100 per month for two roommates sharing a bedroom. This type of up-charge becomes much less common as you go farther away from campus (for example, this extra fee is very rare in Far West).
If you bring your car to West Campus, it's wise to reserve a parking space somewhere. Street parking in the neighborhood can be difficult, because many of the streets are metered or require a residential permit from the City of Austin. Usually, you can get a parking space at your rental property, but if a space isn't available, contract parking is always an option.
As a result of the UNO and large-scale developments, many houses in West Campus have been demolished, and most of the neighborhood's remaining houses are now concentrated in the northern tip and the southwest quadrant of West Campus (the two regions where UNO zoning does not apply). Given the scarcity of West Campus houses, UT students will find the best selection of rental houses in North Campus and Hyde Park.
UT area co-ops are also predominantly located in West Campus – more than 90% of them are situated in this neighborhood. The majority of West Campus co-ops – approximately 80% – are located south of 24th Street.
As far as grocery shopping, there are more than eight convenience stores in West Campus as well as one medium sized grocery store – Fresh Plus – in the heart of the neighborhood at 24th St and San Gabriel. Many additional grocers are within a couple miles of West Campus. The best convenience stores in the area include Orange Market at 25th Street and San Gabriel (wonderful service, plus free coffee 24/7 and free doughnuts in the mornings Monday through Saturday), Bodega On Rio (Rio Grande and 21st Street), and West Campus Market (22nd Street and Pearl Street). Most UT students do their bulk grocery shopping at the Hancock Shopping Center H-E-B, which is just 1.5 miles northeast at 41st Street and Red River (Route 338). If you're using public transportation and live close to The Drag, taking Route 803 to the H-E-B at Burnet Road and Allandale Road may actually be faster. For organic and gourmet foods, Wheatsville Co-op is less than a quarter mile north at Guadalupe and 31st (Routes 1, 3, 19, 22, and 481), Central Market is less than a mile north at Lamar and 40th (Routes 338 and 803), and the flagship Whole Foods Market downtown is less than a mile south at Lamar and 6th (Routes 21, 22, 103, and 338). Wheatsville was named in honor of Austin's first black community after the Civil War, which was called Wheatville and located in present-day West Campus. Wheatsville is the only retail food co-op in Texas and has been recognized many times by the Austin Chronicle as Austin's best neighborhood grocery store.
If you like to buy produce from local growers, swing by the Triangle Farmers' Market on 46th Street between Guadalupe and Lamar (Routes 1, 5, 338, 801, 803, and 990) – it's held every Wednesday from 3:00 p.m. to 7:00 p.m. and also features live music.
Many other businesses that students consider essential are in West Campus. For example, there are multiple banks (University Federal Credit Union, Chase, and Wells Fargo; Bank of America has an ATM), a few gas stations, bookstores (including UT's main campus bookstore, University Co-op), CVS Pharmacy, FedEx Office Print & Ship Center (has several workstation desks and free Wi-Fi), Jenn's Copy and Binding, the University Station Post Office is just across The Drag on 22nd Street, barber shops and hair salons (Wooten Barber Shop, established in 1964, has been a longtime staple on The Drag), and computer repair shops like Mr. Notebook.
The UT Libraries are an easy walk from West Campus. If you'd like to use the Austin Public Library, there are four branches within a 1.5 mile radius of the neighborhood (Faulk Central, Howson, Carver, and Terrazas Branches).
West Campus has countless restaurants and cafes, mostly clustered along The Drag, 24th Street, and MLK. For Mexican and Tex-Mex, the best include Cabo Bob's Burritos (fish tacos are terrific), Chipotle Mexican Grill (burrito bowl is a top seller), and Torchy's Tacos (fried avocado taco is delicious). When you're craving pizza, head over to Conans Pizza (they brought deep dish pizzas to Austin in 1976 and have been an institution on The Drag ever since) or Austin's Pizza (it has a wide variety, including vegan and gluten free options). The best burgers in the area are sold at Dirty Martin's Place (in business at the same building since 1926) and Whataburger. For some ethnic variety, check out VERTS Kebap (amazing German wraps that you can eat while walking to class), Madam Mam's (authentic Thai food, with good-sized portions for the price), Sushi Niichi (you have to try their blue moonlight and miso soup), Kismet Cafe (Greek and Mediterranean food; the falafel is fabulous), and Teji's (chicken tikka masala and naan are great; The Clay Pit, just five blocks south, is also worth trying for Indian food). You can get your barbecue fix at Bert's Bar-B-Que (has served the UT community since 1970), Ruby's BBQ (on The Drag since 1988, they serve excellent brisket and mustard potato salad, and even have a veggie chili), and Freedmen's (combination of a BBQ joint and bar that was featured in Time Magazine; located in the Franzetti store, the last remnant of the historic Wheatville community). For a sweet treat, you'll be on cloud nine at Polkadots Cupcake Factory (order the red velvet or banana nutella), Tiff's Treats (delectable cookies and snickerdoodles), Ken's Donuts (known for their samosas, too), Moojo (gourmet ice cream meets warm cookies), and Cow Tipping Creamery (soft-serve ice cream mentioned in The New York Times). If you're a fan of food trucks, check out the Co-op Food Court and the Rancho Rio Eatery. Finally, here are two student-favorites that don't fit into one of the categories above: Kerbey Lane Cafe (best breakfast in the campus area; their queso is also fantastic), and Fricano's Deli (featured on the Food Network's Man vs. Food; best sandwich in the neighborhood).
There are also numerous coffee shops and bars worth visiting. For coffee, Spider House (just east of The Drag; also a hot evening spot for beer and live music), The Coffee Bean & Tea Leaf, and Starbucks are hard to beat. The best bar and music scenes can be found at Cain & Abel's (usually packed with college students; great place to watch a game or play pool or darts), The Hole In The Wall (play several different games or listen to fantastic live music at this iconic bar founded in 1974), Pluckers Wing Bar (named "Top 5 Sports Bar in North America" by ESPN and "Top 10 Wing Bar" in the country by USA Today, this is a student favorite for watching sports; they also have team trivia and "wingo" bingo every week), and Cactus Cafe (nationally known as an outstanding and intimate live music venue; located just across The Drag in the Texas Union). If you visit the Cactus Cafe, go downstairs before leaving to give Glow Bowl or billiards a try at the Union Underground. There are also several hookah bars in West Campus such as Kasbah Moroccan Lounge and Arab Cowboy, and kegs can be ordered from (and delivered by) Junior's Beer and Wine.
UT students love to shop on The Drag. Some of the most frequented stores include Urban Outfitters, Tyler's, Buffalo Exchange (students' favorite secondhand clothing store), Nice Kicks, and of course University Co-op. The outdoor 23rd Street Artists' Market is also well worth a visit for local handcrafted art – it's open 7 days a week and set between a couple massive, breathtaking murals that'll put a smile on your face.
It's not very difficult to reach big-box stores from West Campus. There are a couple Walmart Supercenters located within 4.5 miles. You can go to the one at Anderson Lane and Burnet Road via Routes 3, 5, and 803, while the one on Norwood Park Blvd is best reached by car from West Campus. A Target store is less than three miles northeast at the Capital Plaza Shopping Center, and you can take Route 37 from the football stadium to get there (if you drive to Target, it's just off the I-35 North frontage road). If you're using public transit, though, going to the Target at Ben White Blvd and South Lamar is actually slightly faster – take Route 803 from The Drag or Route 338 from North Lamar. The Hancock Shopping Center (Route 338) and Mueller Retail Center (two miles northeast) offer even more great shopping and dining options, and don't forget about all the options downtown!
Pease Park, a 42 acre section of the Shoal Creek Greenbelt, is found on the western edge of this neighborhood. This park features three sand volleyball courts, a couple barbecue pits, two basketball courts, dozens of picnic tables, a playground, and a splash pad. It's a common hangout spot for UT students and is a favorite destination for dog owners because the portion of the Shoal Creek Trail from 24th Street to 29th Street is a designated no-leash zone. The park also hosts Austin festivals such as Eeyore's Birthday Party.
If you enjoy staying active, you may also appreciate the neighborhood's Cyc Fitness studio or the Caswell Tennis Center (built in 1948, it's the oldest public tennis facility in Texas and has been recognized by the Austin Chronicle as the "Best Tennis Courts" in Austin). Runners may want to challenge themselves to run the steep West Campus hill that UT football coach Charlie Strong runs occasionally – heading east on MLK from Pease Park, the street rises 117 feet in only three-tenths of a mile, making it one of the toughest hills in the city.
A few other things in and around the area worth seeing include the Bullock Texas State History Museum (features an IMAX theater, and the nearby parking lot is the most popular tailgating spot for home football games), Blanton Museum of Art (considered the best art gallery and museum in Austin), Harry Ransom Center, and the annual Torchlight Parade and Rally held the week of the UT vs. OU football game.
University Health Services is located less than a quarter mile east on Dean Keeton St. There's also an urgent care clinic – MedSpring – in West Campus, as well as four 24 hour emergency rooms within a mile of the neighborhood (University Medical Center Brackenridge, St. David's Medical Center, Seton Medical Center, and Heart Hospital of Austin).
Some of the most popular West Campus apartments and condos include The Block Apartments, Axis West Campus Apartments, Villas on Guadalupe Apartments, 21 Rio Apartments, 21 Pearl Apartments, Rio West Apartments, Orange Tree Condos, Quarters on Campus Apartments, Regents West Apartments, Croix Condos, 900 West Apartments, Texan Tower Condos, Nueces Oaks Apartments, 26 West Apartments, Galileo Condos, 21 Rio Apartments, Villa Nueces Apartments, Centennial Condos, Texan 26 Apartments, Villas on 26 Apartments, West 24th Street Apartments, Camino Real Apartments, Texan Shoal Creek Apartments, Texan Pearl Apartments, Grand Marc Apartments, Twenty Two 15 Apartments, and The Crest at Pearl Apartments.
Click here to search West Campus apartments and rentals. Or, if you're a buyer, seller, or landlord, please visit the respective page designed for you. You can also search West Campus homes for sale here and view campus area market statistics here.