Prepare
Did you know hiring a REALTOR® to sell your home has been shown to result in a higher sales price? In 2013, the typical home sold by a REALTOR® closed for $230,000, compared to $184,000 for FSBO homes (For Sale By Owner). Only homes listed with a REALTOR® can be put in the powerful Multiple Listing Service (MLS) and Realtor.com databases.
At Austin Residence, putting your house or condo in the MLS is only the beginning though – we have a comprehensive 21st Century marketing plan (detailed below) based on research showing what today's buyer craves the most (namely, online content with professional wide angle photos and HD videos) to ensure you get top dollar for your property. We serve clients both in the UT Austin campus area as well as Austin citywide.
Reasons for selling a home vary greatly. Whatever the reason is, if you hire a REALTOR® it's important to discuss your needs and wants with the agent, so that your home selling plan and timeline can be customized.
Deciding when to list your property on the market is one thing to discuss with your agent. The Austin marketplace for condos and houses tends to be more active in the spring and summer: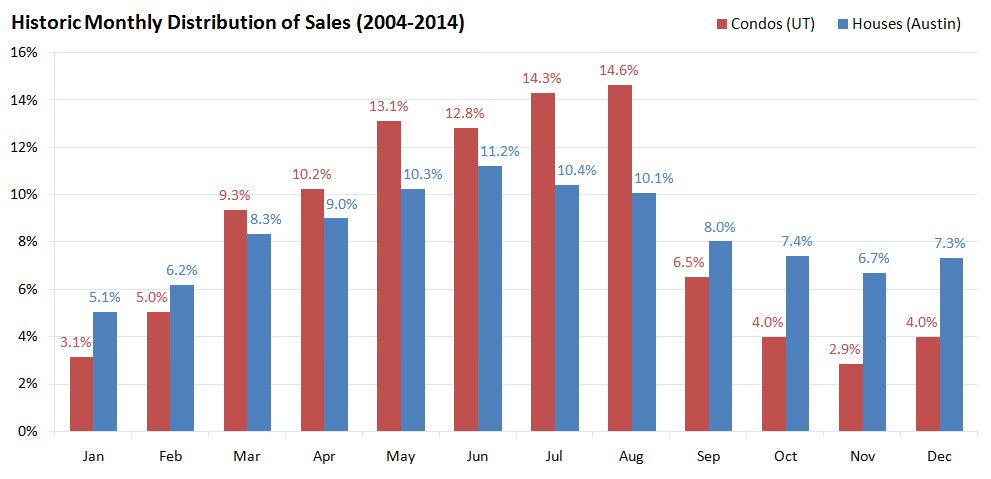 Looking back at the history of the Austin market, there is definitely a seasonal correlation with sales prices. From 2002 to 2013, median sales prices peaked in June, July, or August in 11 of the 12 years. June was the peak month nine of those years. During that same period, prices bottomed out during the colder months of November to February in 11 of the 12 years. January was the absolute bottom 2/3 of the time.
First impressions can go a long way towards selling your home quickly and for a premium price. Here are examples of ways to maximize your home's "curb appeal":
Apply fresh paint to your front door and place a flowerpot nearby
Replace welcome mat
Clear any cobwebs or nests near the front door
Clean windows inside and out
Wash or paint your home's exterior
Trim trees, hedges, and shrubs
Add dark colored mulch in front landscaping beds and plant seasonal flowers
Keep the grass freshly mowed and remove any debris sitting outside
Pressure wash driveway, porches, and sidewalks
Ensure gutters, downspouts, and other exterior features are clean and firmly attached
Replace missing roof shingles and broken or cracked windows
Cleaning and staging the interior of a home will accentuate the best features and make rooms seem larger and brighter. It will also encourage buyers to linger and picture themselves living there. Here are some ideas that will pay dividends:
Keep all appliances spotlessly clean inside and out, and clear everything off your refrigerator
Clean all flooring, doors, and fixtures
Clean or paint walls and ceilings (avoid bold colors)
Eliminate foul odors and infuse the home with a comforting scent (research shows the most effective scents for selling a home are vanilla, lemon, green tea, cedar, pine, and basil)
Empty all trashcans
Fix drippy faucets and running toilets
Get rid of clutter and excessive furniture / personal goods; straighten all closets
Turn on all lights and open the curtains and drapes during the daytime
In bathrooms, display neatly folded fresh towels, new soap in the soap dishes, and buy new shower curtains; close toilet lids
Keep thermostat at a comfortable temperature
Turn off televisions and play quiet background music
Renovating a property up to a certain level will increase the selling price, without a doubt, however to maximize your return on investment, it's important to not over-improve the property. A general rule in real estate is that buyers are attracted to the least expensive home in the best neighborhood they can afford. Improvements should be consistent with the neighborhood and reflect community preferences.
Finally, during this time of preparation, you'll need to complete a Seller's Disclosure Notice (required by the Texas Property Code) to make buyers aware of any current or previous issues or defects with the home.
Price
The most important factor when selling your home is pricing it correctly from the start. Typically, the longer a home is on the market, the larger the discount ultimately is once it sells. Homes on the market for two weeks or less receive a median of 100% of the asking price, but homes that are on the market for 17 weeks or more typically receive just 92% of the listing price.
At Austin Residence, we take pride in our market analysis and valuation models used to determine the optimal listing price. We will analyze recent comparative sales of nearby properties and also review the current properties on the market (which represent your future competition). It's also important that we assess the current state and direction of the market (see Market Statistics). For example, The National Association of Realtors reports that in a balanced market, homes have a median selling time of 42 days (6 weeks). Anything less indicates a seller's market, and anything more means it's a buyer's market.
Here are a couple snapshots of the Austin market: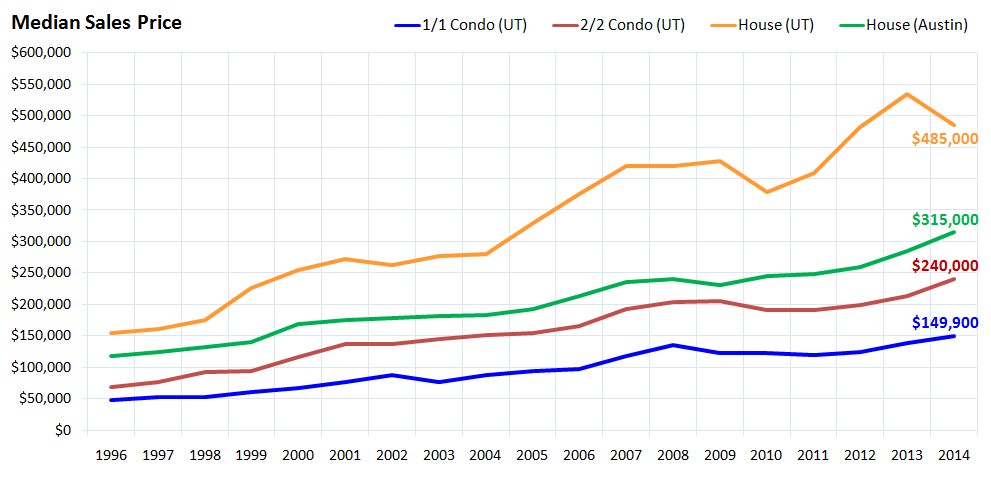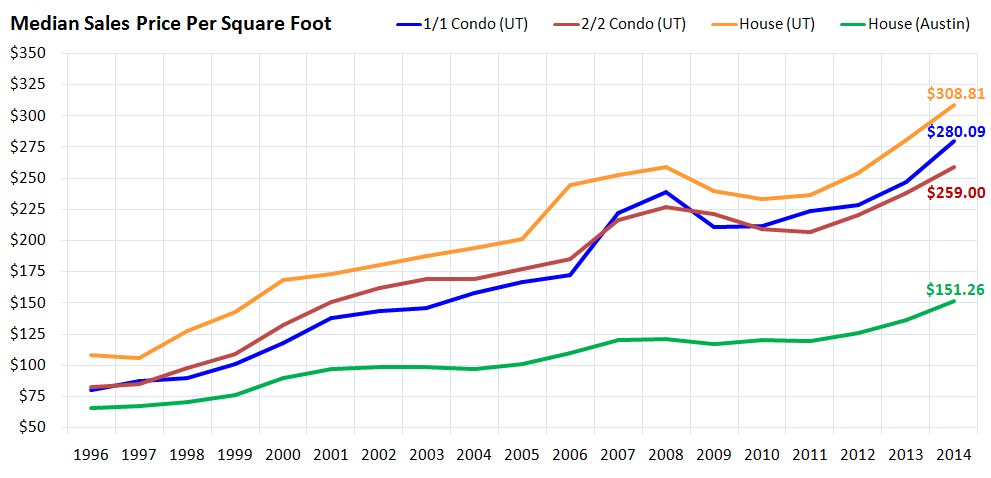 Market
Recent studies indicate that 92% of buyers search online for a home. The traditional paper-based methods of real estate marketing are not nearly as effective these days. For example, in 2013, only 1% of buyers found the home they bought through a newspaper ad, while 43% found the home on the internet. An online marketing campaign is imperative, and it's what Austin Residence delivers: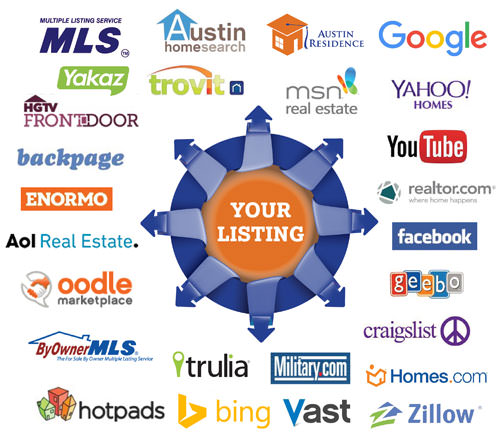 It's clear that the internet is the starting point and central hub for today's real estate search. But, what are buyers looking for when they go online? According to the National Association of REALTORS®, the three types of content that buyers value the most are photos, video tours, and detailed information about the properties. With every sales listing, Austin Residence includes a Fly Tour™ HD Video and professional wide angle photos for free!
Our DSLR wide angle photos are crisp and clear, and they capture much more of the property than photos taken with a point-and-shoot digital camera:
Here's an example Fly Tour™ HD Video:
HDR photos are also included in our listing package when the lighting calls for this type of photography. And of course, detailed information about your home will be uploaded into the MLS database and all of the websites we advertise on. To further promote properties and the nearby amenities, we link our Central Austin sales listings to the best collection of neighborhood photos and comprehensive guides available.
A yard sign, an open house (with property brochures available), and mailing out "Just Listed" postcards to nearby homes are a few of the traditional marketing techniques we also use. Our focus, however, is on what's most effective in today's market – an online campaign, with beautiful wide angle photos and an HD video tour that makes buyers feel like they are effortlessly gliding through the home.
Follow Up
As the home is shown by agents, Austin Residence will solicit their feedback on the showings. If a buyer doesn't like the floorplan, there's nothing a seller can do about that, but if 80% of buyer's agents provide the same feedback on cleanliness, something not working, price, etc., then the seller may need to address an issue. Acquiring feedback early on in the process helps us to avoid "burning" days on market if there's a quick and easy adjustment that needs to be made. Feedback from buyer's agents, as well as general market updates on sales activity, will be provided to the seller until the property is under contract. This will allow us to continually monitor the effectiveness of our marketing plan and the condition of the home, and make any changes if necessary.
Receive Offer
Hopefully sooner rather than later, a buyer will submit an offer. In a competitive market, we may even receive multiple offers simultaneously. Every offer will be presented to the seller, who may then choose to accept, reject, or make a counteroffer. Most of the negotiations in a sale occur before a purchase offer is executed, and then during the option period that follows. Your REALTOR® will advise and assist throughout the negotiation stages.
Close
Most homes close 30 to 45 days after a purchase offer has been signed. At closing, all parties sign the remaining paperwork needed to complete the transaction, and funds are disbursed according to the Closing Disclosure. Title to the property transfers from the seller to the buyer, the buyer receives the keys, and the seller receives payment for the home!