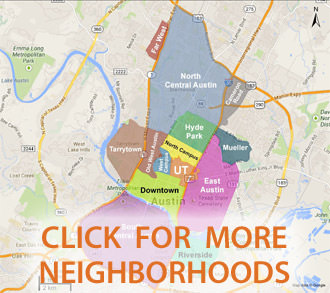 Tarrytown is one of the most coveted neighborhoods in the city due to its close proximity to Lake Austin, Downtown, and UT Austin. Several Capital Metro buses take students from Tarrytown apartments to UT: Routes 18, 21, and 663 Lake Austin UT Shuttle (click here to learn about UT bus routes). Biking to UT is possible and takes 15 to 25 minutes (bike maps available here), while driving takes 6 to 12 minutes. UT students sometimes take a class or two at Austin Community College (ACC), and ACC's Rio Grande Campus is about 1.5 miles east and can be easily reached on the #18 bus that travels down Enfield Rd.
This beautiful and affluent neighborhood is made up of mostly large, older homes, and there's also a scattering of apartments and condos (typically built around the 1960s and 1980s, although there's also some new construction), particularly around Enfield Rd and Exposition Blvd. As with other neighborhoods in Austin, duplexes available for rent are fairly common – for every two houses on the market, there's typically one duplex. This well-maintained area is home to professionals, families, and folks from the UT community. While Tarrytown is not walking distance to UT, it's prime Austin real estate, so you should not expect any rent savings as compared with West Campus or North Campus.
You will sign a conventional lease in this area. Typically, Tarrytown renters pay for all utilities, and parking is included for free.
Adjacent to Tarrytown on the southern end lies the Brackenridge Field Laboratory, a biology research station owned by the University of Texas at Austin. For students and faculty conducting research at this field lab, Tarrytown is an ideal place to call home.
There are two Randalls grocery stores in Tarrytown, and they're both on Exposition Blvd – one is near the southern end (just north of Lake Austin Blvd), and the other is in the northern section of the neighborhood (just north of Westover Road). Routes 21 and 22 can get you to both Randalls - these buses run the entire length of the neighborhood along Exposition Blvd, and the same buses can also bring you to and from the popular Whole Foods Market downtown (one mile from Tarrytown).
Tarrytown is also home to a couple community gardens. Deep Eddy Community Garden, located near Lady Bird Lake, has been an active organic garden since 1983. Third Day Community Garden is a newcomer by comparison - it was founded in 2014 in the northern half of the neighborhood along Exposition Blvd.
While there aren't a lot of restaurants and cafes within Tarrytown's borders, the area is right next to a huge array of fantastic dining options. For example, if you love to hang out near the water, there's no better place to live than Tarrytown - some of Austin's favorite restaurants are located on Lake Austin, which is just steps away. Hula Hut is a perennial student favorite – this Austin institution is a combination of Hawaiian and Mexican, and you can enjoy your tubular taco literally right over the water. After a meal at Hula Hut, walk over to Mozart's Coffee Roasters and have some locally roasted coffee or a bite from the bakery – you can't go wrong with their famous cheesecake. On a nice day, you'll see all sorts of college students, locals, and tourists lounging on Mozart's huge outdoor deck by the water. It's a perfect place to bring a good book or get some work done with the free Wi-Fi available, and you can enjoy live music every Thursday through Sunday on the deck.
Magnolia Café is another hot spot on Lake Austin Blvd, and you can grab American and Tex-Mex food here 24/7. Other eateries worth trying in and around Tarrytown include Food! Food! (a charming bakery and café), JuiceLand, and Maudie's (a local favorite for margaritas). Also, remember there are countless downtown restaurants and shops just minutes away!
There are some terrific parks in and around Tarrytown. For the most scenic view in Austin, head a mile north to Mount Bonnell, which has breathtaking views of Lake Austin, the surrounding hills, and downtown. In the same general direction, at the northern tip of the neighborhood, is Mayfield Park – a great place for a picnic and watching the resident peacocks show off their feathers. Mayfield also has some beautiful ponds and gardens, as well as nature trails. Near the southern tip of the neighborhood, the 10.1 mile Ann and Roy Butler Hike and Bike Trail continues its loop around Lady Bird Lake – this trail is a favorite among Austinites and is used by 3,000 to 15,000 people every day. Reed Park is in the heart of Tarrytown, and it's where you'll find locals swimming, running, biking, or just relaxing. Westenfield Park sits on the eastern edge of Tarrytown and is home to lovely shade trees and several options for recreation. And finally, Johnson Creek Greenbelt is a 59 acre park that that has 1.5 miles of trails and plenty of places to sit in the shade.
If you'd like to try a formal exercise program, head over to Move Austin Fitness, which is just a block north of the Exposition and Windsor intersection.
Golfers will feel right at home at the neighborhood's beloved Lions Municipal Golf Course. Another popular outdoor activity in the area is a visit to Deep Eddy, the oldest swimming pool in Texas. In the summer, Deep Eddy has movie nights, so you can bring a blanket and watch a film under the stars (you can even stay in the water if you want).
Need the silence of a library to work or study but don't have time to go to campus? Tarrytown's Howson Branch of the Austin Public Library is in the heart of the neighborhood a block north of Exposition Blvd and Windsor Road (Routes 21 and 22). There's also a U.S. Post Office a block east of the library on Spring Lane.
If there's ever an emergency, Seton Medical Center is located less than a mile east of Tarrytown.
Some of the most popular Tarrytown apartments and condos include Enfield Townhomes, Enfield Court Apartments, Spring Oaks Apartments, Antilles Apartments, The Boulevard at Town Lake Apartments, Norwalk Apartments, Westfield Condos, and Enfield Challenge Condos.
Click here to search Tarrytown apartments and rentals. Or, if you're a buyer, seller, or landlord, please visit the respective page designed for you. You can also search Tarrytown homes for sale here.