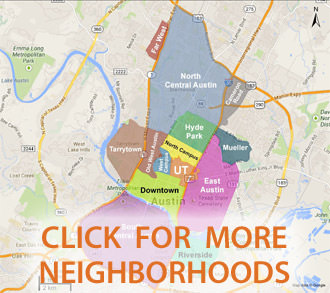 South Central Austin is one of the most in-demand areas of Austin, and the neighborhood's apartments and condos are especially popular with young people. The area is known for its excellent proximity to Downtown, trendy entertainment districts, Austin's most popular outdoor destinations, and its laid-back eccentric vibe. More than any other neighborhood, South Central Austin embodies the Keep Austin Weird slogan. Numerous Capital Metro buses going to UT Austin serve the area: Routes 1, 3, 7, 20, 100, 110, 103, 801, 803, and 935. If you plan to commute to UT via public transit, your best bet is to live close to South Lamar Blvd or South Congress Ave, so you can ride one of the next generation MetroRapid buses (Routes 801 and 803) - these offer the fastest rides to UT, have free Wi-Fi onboard, and they drop off at the UT West Mall as well as Dean Keeton Street. In addition to serving UT Austin, the MetroRapid buses also drop off near Austin Community College's Rio Grande Campus and St. Edwards University (click here to learn about UT bus routes). If you're starting from the northern half of the neighborhood, it's possible to bike to UT in about 20 minutes (you'd go through downtown, though, so it's not a ride for the faint-hearted; bike maps available here). Driving from South Central Austin to UT takes 6 to 15 minutes outside of rush hour. Getting to the airport from here is pretty straightforward – just board the #100 Airport Flyer bus at South Congress and Barton Springs and you'll arrive in about 20 minutes.
This area is comprised of many smaller districts and neighborhoods, and it has experienced rapid development and growth in recent years. The South Congress ("SoCo") entertainment district is the most popular corridor in the area, and it's home to one-of-a-kind stores, music venues, and terrific restaurants. It's an Austin pastime to take a stroll down this avenue, soaking in the lively atmosphere and awe-inspiring view of the Texas State Capitol. The South Lamar ("SoLa") and South First ("SoFi") districts are also very much on the radar and contribute to the area's easygoing atmosphere. Lamar is such an important boulevard, with so many iconic Austin restaurants and businesses, that it's been deemed "Austin's True Main Street" by the Austin Business Journal.
The larger, mixed-use developments and apartment / condo complexes are most heavily concentrated around the three districts mentioned above. These districts also have the best access to public transportation. For those seeking a more traditional residential neighborhood feel, the northern half of South Central Austin has the four most sought-after locations, which are (in order from west to east):
Approximately two-thirds of South Central Austin residents rent, and there's a wide array of rental options. If you like new and modern, there are luxury apartments and condos that have been built in the past decade. A large number of more affordable apartments were built in the 1970s and 1980s and renovated since 2000. Most houses were built between the 1960s and 1980s (the 1980s is also when a lot of duplexes were built in the area). You will sign a conventional lease here and should expect to pay for all utilities, but parking is typically free.
If you're graduating in December or studying abroad and just need a semester or 6 month lease, this neighborhood is worth exploring, as numerous properties allow short-term leases (within a mile or two of UT, on the other hand, the vast majority of properties require a 12 month lease).
Many convenient grocery options are available for South Central Austin residents. An H-E-B grocery store is located at Congress and Oltorf (Routes 1, 331, 486, and 801). You can also buy groceries at Central Market at WestGate which is near the southern boundary of South Central Austin at Ben White Blvd and South Lamar Blvd (Routes 5, 30, 331, and 803), and the Wheatsville Food Co-Op also on South Lamar (Routes 331, 338, 484, and 803). Finally, the original Whole Foods Market is just a half mile north in downtown, and can be reached on Routes 103, 338, and 484.
If you like to eat out or listen to live music, South Central Austin will not disappoint. Around South Congress, be sure to check out Jo's Coffee (an Austin icon with amazing iced turbos), Hopdoddy Burger Bar (their Magic Shroom burger = perfection; Hopdoddy supports the local agricultural economy by using fresh beef from Texas ranches), Guero's Taco Bar (tasty tacos, and frequented by many musicians when they're in town), Home Slice Pizza (thin New York-style; arguably the best pizza in town), Continental Club (Austin's famous destination for live music since 1957; it's been named one of the best live music venues in the country by Rolling Stone and is a great pit stop for a happy hour game of pool), and Hill's Cafe (historic beer garden – listen to local music on the patio). In the South First district, some of the best include Bouldin Creek Cafe (dog-friendly establishment with a great all vegetarian menu), Torchy's Tacos (the fried avocado taco is a must-try), Gourdough's (UT students love this dessert truck that serves specialty gourmet doughnuts), Elizabeth Street Cafe (French Vietnamese restaurant that serves outstanding Banh Cuon and Vermicelli), and Threadgill's (wonderful music venue with amazing chicken fried steak). On South Lamar, try Uchi sushi bar (ideal for a special occasion), East Side King (excellent Thai cuisine from Top Chef winner Paul Qui), and Saxon Pub (seeing Bob Scheider perform here is a real treat). Finally, on Barton Spring Road, don't miss the original Chuy's (Tex-Mex). A great introduction to the eclectic mix of South Austin eateries is offered by Austin Eats Food Tours, which has been featured in USA Today, Forbes, and Huffington Post.
Close to the southeast corner of this area is Midnight Rodeo, a popular destination for college students. Another hot spot for dancing is the Broken Spoke on South Lamar, which was voted the "best country dance hall in the nation" by Entertainment magazine. If dancing isn't your thing, head over to the Lamar Union, where you can catch a movie at the Alamo Drafthouse or sing karaoke at The Highball. Alamo Drafthouse is often considered the best movie theater chain in America, and The Highball has been recognized as having the best karaoke rooms in the world. Peter Pan Mini-Golf on Lamar is also open late. Finally, if you ever need to come back home late from one of downtown's entertainment districts such as 6th Street, the #484 and #486 Night Owl buses go to South Lamar and South Congress, respectively, until a little after 3:00 a.m.
A Target store is located at South Lamar and Ben White (Routes 331, 338, 484, and 803). There's also a Walmart Supercenter in South Central Austin, located in the southeast corner on Ben White. For some classic SoCo shopping, check out First Thursday – every first Thursday of the month, many shops have specials and stay open late, and the sidewalks are filled with vendors and musicians. A couple of the most popular shops on SoCo include Allens Boots and Kendra Scott.
No other Austin neighborhood can compete with South Central Austin when it comes to the quality of parks and trails available. For starters, you have the 10.1 mile Hike and Bike Trail around Lady Bird Lake, which is immensely popular in Austin and used by 3,000 to 15,000 people every day. If you'd like to reach the lake's northern shore without taking the whole trail around, the Pfluger Pedestrian Bridge near Lamar Blvd provides a popular and scenic shortcut. The lovely Boardwalk portion of the trail starts at Bouldin Creek, and the nearby Auditorium Shores is often used for outdoor concerts and festivals. Walk south a little through Auditorium Shores, and you'll reach Butler Park, where you can see a beautiful view of downtown from its 35 foot hill. Dog owners love going to the large, fenced-in Norwood Estate Dog Park in the northeast corner of the neighborhood. Along the western side of the neighborhood is a huge swath of green space that includes three gems: Barton Creek Greenbelt (7.9 mile urban oasis), Barton Springs (the three-acre natural spring pool stays at 68 degrees year-round), and Zilker Park (Austin's most popular park and home of the ACL Festival, Blues on the Green, and the Trail of Lights). A great way to explore South Central Austin is by renting a bike from Barton Springs Bike Rental.
If you enjoy working out, there's a Gold's Gym in the neighborhood on Ben White Blvd, just a couple blocks east of Manchaca Rd. There's also an LA Fitness on South Lamar next to Wheatsville Co-Op. Depending on where you live, the Gold's Gym or YMCA located Downtown, or the Planet Fitness in Riverside might actually be closer to you.
Looking for a good read or a quiet place to study? The Twin Oaks Branch of the Austin Public Library is located in the middle of the neighborhood at South 5th Street and Mary Street West (Route 5). If you need to send a package, there's a U.S. Post Office near South Congress and Ben White Blvd (Routes 1, 228, and 801), or you could also head to the Post Office downtown at 8th and Congress (Routes 801 and 803 provide the fastest trip there).
Two emergency rooms are located along the southern border of the neighborhood (St. David's South Austin Medical Center and the Austin Emergency Center). There are also a couple MedSpring urgent care clinics in South Central Austin.
Some of the most popular South Central Austin apartments and condos include Retreat at Barton Creek Apartments, Gables at the Terrace Apartments, The Oaks Apartments, The Willows Apartments, Timbercreek Apartments, Crescent Apartments, Bouldin Creek Apartments, South Congress Commons Apartments, The District at SoCo Apartments, The Arts at South Austin Apartments, Post South Lamar Apartments, Gibson Flats Apartments, Lamar Union Apartments, Tambaleo Apartments, 2020 Congress Condos, Travis Oaks Condos, Flats on Wilson Condos, Tree Apartments, Akoya Condos, BartonPlace Condos, Riverwalk Condos, and Courtyard Condos.
Click here to search South Central Austin apartments and rentals. Or, if you're a buyer, seller, or landlord, please visit the respective page designed for you. You can also search South Central Austin homes for sale here.