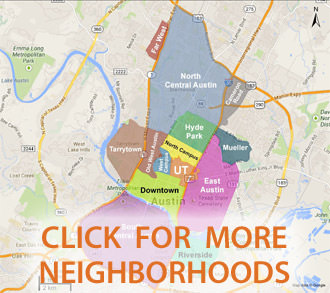 If you need to live on a UT Shuttle route, the East Riverside Drive area is where you'll get the most value for your rental dollar, hands down! Riverside has been home to great apartment deals ever since it was essentially created in the 1970s as an off-campus location for UT Austin students. While the neighborhood is experiencing a transformation and new luxurious developments seem to be springing up everywhere, the student-oriented apartments that are furnished (some have an unfurnished option) and most or all bills paid still represent a tremendous value that cannot be beaten. By living near one of the four UT Shuttles that serve the area (Routes 670 Crossing Place, 671 North Riverside, 672 Lakeshore, and 680 North Riverside/Lakeshore), you're looking at an average commute time of 20 minutes to campus. The UT Shuttles make a few stops in the neighborhood and then go directly to UT without making any intermediate stops along the way. The Shuttles go to the southeast section of campus, entering on San Jacinto Blvd and then making a clockwise loop around the football and soccer/track stadiums. While Capital Metro Routes 7, 20, and 100 will also take you from Riverside to UT, they have many intermediate stops downtown and therefore take longer (click here to learn about UT bus routes).
By car, it's a straight shot up I-35 to campus and only takes about 10-15 minutes outside of rush hour. Biking to campus is possible (around 25 to 30 minutes), but it's not the most bike-friendly ride, and so should only be attempted by skilled bikers (bike maps available here).
With its excellent proximity to Downtown, on-the-lake location, easy access to Austin Bergstrom International Airport (the #100 Airport Flyer bus makes several stops along Riverside Drive and then takes just 10-15 minutes to reach the airport), and the fact that one of Austin's largest employers (AMD) relocated to the area, it's no wonder the City of Austin has deemed Riverside an important corridor for development and growth. In fact, it's been designated as a Town Center in Austin's comprehensive plan. Riverside's transformation is well underway, and those living and working here are already talking about how the area is cleaner, greener, safer, and more welcoming.
Austin Community College (ACC) also has a campus in the Riverside area, so ACC students reside here as well. Overall, Riverside's population is a diverse mix of college students, young professionals, working class families, and creative types such as musicians.
Most UT students who choose Riverside opt to live in one of the student-oriented apartments, which typically have most or all bills paid and free parking. These particular apartments were built between 1996 and 2003, and not only are they furnished (some have an unfurnished option if you prefer that), but they all have washer and dryer inside the home. Riverside is one of the two neighborhoods in Austin where roommate matching is available at certain properties (the other is West Campus), in case you want to be matched. The all bills paid student properties have leases that are by-the-bed, and they use installment contracts. If you would prefer to surround yourself with more young professionals than students, you should explore the new luxury apartments that have been built along Riverside Drive and Lakeshore Blvd – these have become quite popular with millennials and folks who work downtown. There are still plenty of older construction properties in the area, too, if that's more your style or the luxury properties don't fit your budget. The older construction and new luxury apartments use conventional leases.
If you're graduating in December or studying abroad and just need a semester or 6 month lease, this neighborhood is worth exploring, as several properties allow short-term leases (within a mile or two of UT, on the other hand, the vast majority of properties require a 12 month lease).
People looking to buy a home are attracted to the Riverside area because of the larger lot sizes and affordable price points. Young professionals and families have also been flocking to the master-planned communities around East Oltorf Street.
A terrific H-E-B plus! grocery store is located in the center of the neighborhood at Riverside Drive and Pleasant Valley Rd. It's more than a regular H-E-B that just focuses on groceries – this superstore can also be your one-stop for electronics, toys, housewares, grilling and outdoor merchandise, party supplies, apparel, and more. Several apartments are within walking distance of the H-E-B plus!. You can also reach the grocery store using Routes 20, 300, and 320.
There's no shortage of dining and entertainment options for Riverside residents. For example, one of Austin's most well-known music venues, Emo's, has relocated to Riverside. You're also only minutes away from all the trendy spots on South Congress and downtown's world famous 6th Street entertainment district. Getting back home from downtown late at night is a breeze with both the #411 E-Bus and #483 Night Owl bus routes operating until a little after 3:00 a.m.
Riverside restaurants worth visiting include 888 Pan Asian (Vietnamese; delicious spring rolls and pad thai), Café Crème (coffeehouse and bakery with amazing kolaches and kombucha on tap), and The Buzz Mill (open 24/7, this place has coffee, beer, free Wi-Fi, and one of the best BBQ food trucks called "Blue Ox" out back where you can also chill on their huge patio). When it's time to watch the big game, head over to Midway Field House, a fantastic sports bar with massive TVs (including the largest screen in the city, which measures 253 inches!) and an arcade featuring pool, darts, air hockey, foosball, shuffleboard, and more.
There are many great Mexican restaurants in Riverside, including Rosita's Al Pastor (locally famous trailer and a Zagat top pick for tacos in Austin; their al pastor taco is a must-try) and El Taquito (known for their barbacoa and al pastor with pineapple). There's a lovely little food trailer park with a great view of downtown called South Shore Eatery, and a number of fast food restaurants are also sprinkled along Riverside Drive.
Riverside Drive has several strips malls containing all kinds of shops and services. A few examples include Walgreens, Supercuts, Twin Liquors, GNC, Texan Urgent Care (urgent care clinic), and numerous ATMs. The nearest Walmart Supercenter is less than two miles southwest of the neighborhood, and Route 300 will take you there and back. There's also a Target about three miles southwest, which you can reach via Route 331.
Riverside residents love having Lady Bird Lake and the Hike and Bike Trail right in the neighborhood. Runner's World named Austin "One of the Best Running Cities in America", and this 10.1 mile trail that loops around the lake is a big reason why. 3,000 to 15,000 people use the trail every day, whether it's for walking, jogging, or biking. With the 2014 opening of the Boardwalk Trail, Riverside now has one of the nicest sections of the entire trail. This $27.5 million project created a 1.1 mile overwater trail connector to fill a longtime gap in the Hike and Bike Trail, so trail users are now safer since they don't have to navigate the busy Riverside Drive. The Boardwalk has created many new views of the downtown Austin skyline, and there are multiple piers along the trail where you can stop and enjoy the scenery. One of the most exciting ways to explore the Boardwalk and trail is by renting an electric bike from Rocket Electrics, which has been featured on CNN and in The New York Times.
Want to be even closer to the water? Try renting a stand up paddle board from Paddle Zen and participate in the world's fastest growing water sport. You can also rent a kayak from Live Love Paddle and either go out on your own, or with one of their tour guides to explore downtown or watch the world's largest urban bat colony emerge from under the Congress Avenue Bridge.
If you enjoy the outdoors, you'll also want to check out the massive Roy G. Guerrero Colorado River Park. This 362 acre park borders the water and has undergone major work after being largely undeveloped for many years. It now features an 18 hole disc golf course, a playground and picnic area, four baseball fields, 12 softball fields, three volleyball courts, dog waste bag stations, a dog water fountain, and 2.3 trail miles. Less than a mile south of the neighborhood, the Olympic sized swimming pool and large concrete skate park at Mabel Davis District Park are also worth checking out.
For those who enjoy exercising at a gym, there's a Planet Fitness in the neighborhood at Pleasant Valley Road and East Riverside Drive.
Riverside is also home to the Riverside Golf Course, a public golf course that formerly served as the Austin Country Club. Native Austinites Tom Kite and Ben Crenshaw grew up playing this course before winning three major championships between them on the PGA Tour.
If you need some peace and quiet to study, head over to the Ruiz Branch of the Austin Public Library at Grove Blvd and Fairway St (Routes 20 and 331). And if you need to send a package, there's a U.S. Post Office a mile south of the neighborhood at Burleson Rd and Highway 71.
With all of the redevelopment and attention being given to the area, it's certainly an exciting time to live in Riverside, and the neighborhood appears to have an even brighter future. The East Riverside Corridor Master Plan adopted by the City of Austin will continue to guide future developments, with an emphasis on creating a transit-oriented and walkable neighborhood.
Some of the most popular Riverside apartments and condos include Village at Riverside Apartments, AMLI South Shore Apartments, Lakeshore Pearl Apartments, The Ballpark Apartments, University Estates Apartments, University Village Apartments, Riverside Grove Condos, RiverView Apartments, The Zone at East End Apartments, The Ballpark East Apartments, Hillside Place Apartments, The Ballpark West Apartments, Connection Apartments, Mesh Apartments, Waterloo East Apartments, City View Apartments, Point South & Bridge Hollow Apartments, Trace Condos, and Riverside Villas Condos.
Click here to search Riverside apartments and rentals. Or, if you're a buyer, seller, or landlord, please visit the respective page designed for you. You can also search Riverside homes for sale here.