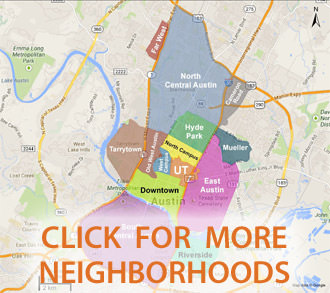 Old West Austin is the next door neighbor of West Campus, but it has an entirely different feel and makeup. This quiet, gorgeous neighborhood has excellent proximity to UT Austin and Downtown, and it was selected by the American Planning Association as one of the "10 Great Neighborhoods in America". Old West Austin is mostly comprised of older single family houses, some of which have been renovated. There are also a few apartments and condos, mostly scattered around Enfield Road at the southern end of the neighborhood. Student apartments are not nearly as common here as in West Campus, but they do exist. The Capital Metro buses serving UT Austin from this neighborhood are concentrated along the northern and southern boundaries of Old West Austin: Routes 3, 18, 19, 21, 982, 983, and 987 (click here to learn about UT bus routes). It's also possible to bike to campus within 10 to 15 minutes (bike maps available here), and driving to UT only takes 5 to 7 minutes.
This historic neighborhood sits on a plateau adjacent to downtown and is comprised of three residential areas, which are (from south to north) Old Enfield, Pemberton Heights, and Bryker Woods. You'll find mature trees, a tranquil atmosphere, and scenic vistas in this neighborhood, especially in the Pemberton Heights section, which overlooks Shoal Creek and Pease Park.
Pemberton Heights has the largest lots and homes in the neighborhood and was named one of the "25 Platinum Addresses in the United States" by Town and Country Magazine. It's located on the 19th century plantation of Governor Elisha Pease, whose namesake park lies just to the east. Pemberton Heights is filled with all sorts of majestic and iconic homes, such as the neighborhood castle constructed in 1927, the Art Moderne Bohn House, and the Malcolm and Margaret Badger Reed Estate on five acres of land.
Old West Austin is ideal for students who want quick access to downtown, and who want a quieter and more traditional neighborhood feel than West Campus. Traditionally, though, professors, attorneys, doctors, established empty nesters, and wealthy families (e.g. President Lyndon Baines Johnson's mother lived here for 16 years) have far outnumbered students in this neighborhood due to the high cost of housing and scarcity of rental properties. The area has an eclectic mix of Victorians, bungalows, cottages, brick houses, and ranch homes. The houses here were mostly built between the 1930s and 1970s. The northern end of the neighborhood has an abundance of medical facilities, such as the Seton Medical Center.
You will sign a conventional lease in this area. Typically, Old West Austin renters pay for all utilities, and parking is included for free.
Old West Austin residents have convenient access to several grocery stores. A Randalls is located on West 35th Street – the northern edge of Old West Austin. Unless you live in the northern part of the neighborhood and can walk to the grocery store or hop on Route 19 or 21, you will need a bike or car to access Randalls. If you're close to Lamar Blvd (the eastern border of the neighborhood), you can take Route 338 northbound to Central Market (just a quarter mile northeast) or the Hancock Shopping Center H-E-B (1.5 miles east). From Lamar, you can also take Route 338 southbound to the original Whole Foods Market downtown, which is less than a mile away.
Restaurants in the area worth checking out include 34th Street Cafe (try their hanger steak and chicken piccata), Olive & June (Italian food), and P. Terry's Burger Stand on Lamar. If you want to get a taste of old Austin, try Hill-Bert's Burgers – it was founded by a UT Austin student in 1973. Hill-Bert's was the first in Austin to deliver burgers, and they still deliver! With downtown practically as your backyard, you'll of course have easy access to all the great downtown restaurants, too.
Nature lovers will appreciate the neighborhood's 42 acre Pease District Park, which is part of the Shoal Creek Greenbelt. Pease is a wonderful place to hold a big BBQ, walk your dog, or play a sport such as basketball, disc golf, or volleyball.
Define Body & Mind is a boutique fitness studio focusing on yoga, barre, and spin classes that's located on the northern border of Old West Austin. There are many other gyms in the surrounding neighborhoods as well.
The closest Austin Public Library (Howson Branch) and U.S. Post Office are located just north of Exposition Blvd and Windsor Road, which is less than a mile away in the adjacent Tarrytown neighborhood.
Some of the most popular Old West Austin apartments and condos include Enfield Apartments, 24 Flats Apartments, Pease Place Condos, and Lorrain Apartments.
Click here to search Old West Austin apartments and rentals. Or, if you're a buyer, seller, or landlord, please visit the respective page designed for you. You can also search Old West Austin homes for sale here.