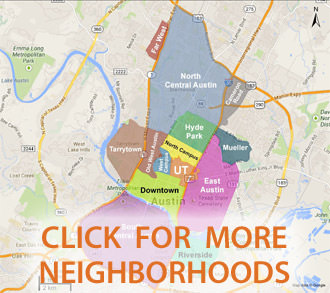 North Central Austin is an eclectic collection of smaller neighborhoods with quick and easy access to the city's core (UT and Downtown), whether you're using public transit or driving. If you want to live in a trendy part of town within walking distance of great shopping, dining, and entertainment, the North Lamar and Burnet Road corridors have become very hot thanks to recent retail, restaurant, and apartment development. If you prefer a more traditional neighborhood with tree-lined streets and a suburban feel, North Central Austin also has some beautiful pocket neighborhoods tucked away from the lively corridors. While North Central Austin is a large geographic area, it is undivided by highways, and shares a common architecture due to the popularity of post-World War II single-family houses.
Many different Capital Metro buses are available to take you to UT Austin: Routes 1, 3, 5, 7, 10, 19, 21, 801, 803, 982, 983, 987, and 990 (click here to learn about UT bus routes). For the fastest ride to campus, you should live on or near North Lamar Blvd or Burnet Rd, so you can ride one of the next generation MetroRapid buses (Routes 801 and 803). The MetroRapid buses come with the perk of free Wi-Fi onboard, and they drop off at Dean Keeton Street and the UT West Mall. Route 803 is also the fastest way to reach UT's J.J. Pickle Research Campus, which is less than a mile north of this neighborhood (alternative buses include Routes 3, 240, and 383). Biking to UT's main campus takes about 10 to 30 minutes depending on where you live in the neighborhood (bike maps available here), and you can drive to UT in 5 to 15 minutes outside of rush hour. Need to travel to downtown? Just hop on the MetroRail (there are two stops in the neighborhood), and your trip will be a breeze. If you're coming back from downtown late at night when the MetroRail no longer operates, and you live near Lamar, you can still get back home on the #481 Night Owl bus (it operates until a little after 3:00 a.m.). This neighborhood also has a bus that will take you to the airport – Route 350, and it's home to the Greyhound Intercity Bus Terminal as well.
As mentioned above, North Lamar and Burnet Road are important corridors in this neighborhood, and most apartments in the area are located along them. Traveling down these corridors provides a glimpse of both the old and new Austin - modern mixed-use development that's transit-oriented, and dotted by weird, uniquely Austin businesses. Lamar, which cuts a 23 mile swath through the city, has been tabbed "Austin's True Main Street" by the Austin Business Journal, and it has some of Austin's most iconic businesses. Burnet is just as interesting and relevant these days, and it's one of the best stretches in Austin in terms of its diversity and variety. Lamar and Burnet are home to a number of high density apartments with boutique retail at the street level. Both corridors have a plethora of shops, restaurants, several bars, and entertainment options such as a karaoke bar and a dance club. With the opening of Austin Community College's Highland Campus in 2014, Airport Blvd is a burgeoning corridor in the area that seems to be following in the footsteps of Lamar and Burnet. In fact, the Highland Campus area has been designated as a future Regional Center in Austin's comprehensive plan, while the intersection of Airport Blvd and Lamar has been designated as a Town Center. The Highland area is also home to the College of Healthcare Professions.
The typical apartment in North Central Austin was either built in 1960s to 1980s and then renovated after 2000, or it was built after 2000. College students, young professionals, and folks who work at the Capitol and downtown commonly live in these corridor apartments, while families are more likely to reside in houses that are a few blocks removed from the major corridors (the primary exception – many UT students live in the North Loop houses and duplexes located between 51st Street and Koenig Lane). You will sign a conventional lease here and should expect to pay for all utilities, but parking is free. Some of the complexes here offer short term leases.
Here's a summary of the neighborhoods that comprise North Central Austin (going in a clockwise loop from the southwest corner):
North Central Austin has an H-E-B grocery store at Burnet Rd and Allandale Rd, and it's accessible via Routes 3, 320, 491, and 803. If you're on the Lamar corridor instead, there's another H-E-B just 1.5 miles north of the neighborhood at Lamar and Rundberg that you can reach on Routes 1 and 801. If you prefer H-E-B's natural and gourmet foods grocery store – Central Market – there's one located near the central southern boundary of the neighborhood at Lamar and 40th Street (Routes 3, 338, and 803). At The Triangle (just a few blocks northeast of Central Market; quickest trip to The Triangle is to use either Route 801 or 803), there's a wonderful Farmers' Market held every Wednesday from 3:00 p.m. to 7:00 p.m. There are also a couple smaller grocers in the area, such as Fresh Plus at Anderson Lane and Rockwood Lane (Routes 19 and 325) and Minimax Crestview IGA ("The heartbeat of the neighborhood since 1953") at Woodrow Ave and Piedmont Ave (Route 5).
Sunshine Community Gardens has more than 200 plots on about three acres of land, making it the largest community garden in Austin. Founded in 1979, Sunshine provides its members with an urban oasis for growing organic food and flowers. It also has an annual Plant Sale each spring on the 1st Saturday of March.
This area has terrific restaurants. To start your morning off right, head over to Kerbey Lane Cafe (eggs francisco, migas, and queso are delicious). For pizza, check out Little Deli & Pizzeria (hole in the wall pizzeria that makes one of the best pizzas in town) and House Pizzeria (an unpretentious gem; try a pizza with goat cheese, and wash it down with an Italian soda). To get your burger or fried chicken fix, visit Hopdoddy Burger Bar (the Magic Shroom burger is awesome; Hopdoddy supports the local agricultural economy by using fresh beef from Texas ranches), Top Notch (featured in Dazed and Confused; they sell tasty burgers and some of the best fried chicken in Austin), and Lucy's Fried Chicken (known for its crisp buttermilk fried chicken, deep-fried deviled eggs, and mountain oysters). If you like Tex-Mex, three Austin favorites are located here: Trudy's (try the stuffed avocado), Torchy's Tacos (the fried avocado taco and queso are excellent), and Baby A's (best margarita in Austin). Seafood lovers have been going to Quality Seafood Market since 1938. For some ethnic variety, there's Sarah's Mediterranean Grill & Market (try the falafel and hummus), Hanabi (Japanese sushi bar), Uchiko (upscale Japanese sushi restaurant), and Titaya's Thai Cuisine (order the Pad See Eiw or Jungle Curry). Finally, for a sweet treat, grab a cinnamon roll at Upper Crust Bakery.
Visit the Alamo Drafthouse Village and eat your meal while watching a flick at Austin's #1 movie theater. You can also find a number of restaurants and shops at The Triangle.
If you like the bar and pub scene, you'll want to try Black Star Co-Op Pub and Brewery (America's first co-op brewery; it has creative pub grub with wonderful microbrews), Billy's on Burnet (go during their Happiest Hour and play some pool, darts, and old school arcade games), and Cover 3 (sports bar with great atmosphere and plenty of TVs). The Goodnight has become a popular destination for fun times and offers bowling, table tennis, billiards, shuffleboard, board games, and karaoke; your dollar goes the furthest on weekdays from 11am to 4pm (free games with the purchase of a menu item) and during their 4pm to 7pm happy hour (discounted drinks and half off games). To sing some karaoke, Common Interest on Burnet and Austin Karaoke on Lamar are also great fun.
You can get all your shopping done at the Walmart Supercenter located at Northcross Mall at Anderson Lane and Burnet Road (Routes 3, 5, 19, 323, 325, 491, and 803). The Northcross Mall area has a number of other great businesses, such as Office Depot and Precision Camera & Video, and it also has a U.S. Post Office (depending on where you live, the Post Offices in North Campus, Hyde Park, or Cameron Road might actually be closer to you). There's another Walmart Supercenter just northeast of the neighborhood (Routes 7 and 323). A Target is located just beyond the northern boundary of this neighborhood (Routes 325, 383, and 481), and there's also one just beyond the eastern boundary in the Cameron Road neighborhood. Sue Patrick, which sells University of Texas Longhorns ladies apparel, is located on Burnet just south of North Loop Blvd and has been an Austin staple since 1975. The northern tip of this neighborhood is less than two miles from two popular shopping destinations: the Arboretum and the Domain. The Arboretum is a tree-shaded shopping complex with more than 105,000 square feet of retail and restaurant space, while the Domain is an open air shopping center with more than 100 specialty stores and department stores, as well as many restaurants.
The most popular park in the neighborhood is Beverly S. Sheffield Northwest District Park. Set along Shoal Creek in Allandale, this 30 acre park features a swimming pool, basketball courts, tennis courts, volleyball court, baseball field, playground, picnic tables, barbecue pits, a short trail, and an attractive duck pond. For public transit riders or people that want a short (it's just shy of a mile) urban trail to use, the Crestview/Highland Urban Trail offers a 0.9 mile paved pathway with nice landscaping between two MetroRail stations (Crestview and Highland).
Want to break a sweat at a gym? There are many gyms in this neighborhood to choose from – Anytime Fitness (Northcross Mall), LA Fitness (1/3 of a mile east of Northcross Mall on Anderson Lane), Gold's Gym (right next to ACC's Highland Campus; there's also another location on Research Blvd just west of Burnet Rd), and Planet Fitness (near Research Blvd and West Anderson Lane).
A few other popular attractions in the neighborhood include ice skating at Chaparral Ice, Dart Bowl, and the uniquely Austin experience known as Chicken Shit Bingo at The Little Longhorn Saloon. Finally, the Austin Public Library has two locations in the area – the Yarborough Branch (Routes 3 and 491) and North Village Branch (Routes 3, 19, and 325).
There are several 24 hour emergency rooms (Seton Medical Center, Heart Hospital of Austin, and Austin Emergency Center) and a couple urgent care clinics (MedSpring and Austin Regional Clinic) near the borders of North Central Austin.
Some of the most popular North Central Austin apartments and condos include Midtown Commons Apartments, Camden Lamar Heights Apartments, Burnet Flats Apartments, AMLI 5350 Apartments, Towne Oaks Apartments, Austin Parke Apartments, Oak Creek Apartments, Hidden Gardens Apartments, Post West Austin Apartments, Kensington Apartments, Austin Midtown Apartments, Abbey Road Apartments, Chevy Chase Apartments, Ventana Condos, and Allandale Condos.
Click here to search North Central Austin apartments and rentals. Or, if you're a buyer, seller, or landlord, please visit the respective page designed for you. You can also search North Central Austin homes for sale here.