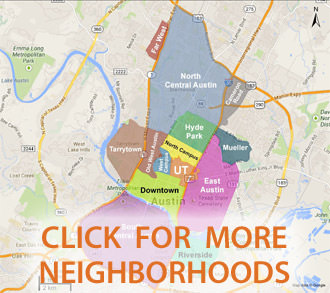 North Campus (also known as North University), located just footsteps away from UT Austin and a few minutes from Downtown, is known for being quieter than West Campus, diverse, and tree-filled. Bordering the UT campus, this historic area is the second most sought-after neighborhood among UT students looking to rent an apartment, condo, or house (West Campus is the most popular overall for undergraduate students, but graduate students typically prefer the quieter North Campus and Hyde Park areas), and it's Austin's most bike friendly neighborhood. North Campus is actually closer to many UT classroom buildings than West Campus (click here to view a campus map), and the southern part of this neighborhood is closer to the football stadium than West Campus, while also being super close to other athletic venues. A few small grocery stores are in the neighborhood, and several full size grocers are nearby. Plenty of restaurants and shops are also in or close to the neighborhood, and there's a robust network of bus routes that weave through the area. With quick and easy access to UT, food, shopping, public transit, parks, and more, it's no wonder North Campus is considered such a desirable neighborhood.
Many students in North Campus bike or walk to UT since it's so close (0-6 minute bike ride and 0-20 minute walk depending on where you live). It's a nice gradual downhill grade to campus, and the most bike-friendly streets leading to UT are Speedway, Duval, and Red River (bike maps available here). There are also many Capital Metro buses available to take you to campus in case you prefer that or there's ever inclement weather: Routes 1, 3, 5, 7, 10, 19, 21, 22, 37, 653 Red River UT Shuttle, 656 Intramural Fields UT Shuttle, 681 Intramural Fields/Far West UT Shuttle, 801, 803, 982, 983, 987, and 990 (click here to learn about UT bus routes). If you live near Guadalupe St, you could also get home from UT (or downtown) late by using the #481 Night Owl bus (the last departure times from downtown and campus are a little after 3:00 a.m. each night). The airport is only 5.5 miles southeast, and you can hop on the #100 Airport Flyer bus to get there – it picks up on the north side of the football stadium, which is just a third of a mile south of this neighborhood.
North Campus has an eclectic mix of residents. People who call this area home include students (especially graduate students, upperclassmen, and undergrads who have classes around Dean Keeton Street), professors, young professionals, families, and retirees. UT students studying engineering, communications, law, fine arts, psychology, and public affairs have classes around Dean Keeton, and therefore often choose to live in North Campus.
The neighborhood also has a diverse array of properties, which is perhaps most apparent when taking a stroll up Duval Road – you'll see low-rise apartments, condos, modest single story houses, mansions, and duplexes, all within a few blocks. In North Campus, most houses were built in the first half of the 20th century. A lot of two-story apartments were constructed from the 1960s to 1980s, and a number of condos were built in the 1970s and 1980s.
New high-rise apartments and condos are not found in the heart of North Campus, like they are in West Campus, because of the strategic planning laid out in the University Neighborhood Overlay (UNO) Design Guidelines. As a result of the UNO, a lot of new complexes have been built in West Campus over the past decade, while the housing stock in North Campus has not changed nearly as much and remains older by comparison. There are still plenty of nice rental options in North Campus, though! Many landlords have renovated their properties in recent years, and there's even a limited number of outstanding newer construction properties available to lease. You will sign a conventional lease here and typically pay for some or all utilities, and the vast majority of properties in North Campus require a 12 month lease. For a 6 month or semester lease, you'll have the best selection in neighborhoods a little farther from UT, such as Far West, Mueller, Cameron Road, Riverside, North Central Austin, and South Central Austin.
Many properties in North Campus have a double occupancy up-charge of $50 to $100 per month for two roommates sharing a bedroom. This type of up-charge becomes much less common as you go farther away from campus (for example, this extra fee is very rare in Far West).
Resident parking is typically free in North Campus (unlike West Campus, where it can cost $100 per month; some North Campus properties charge $20 to $50 per month for parking, but they're in the minority), but if someone's visiting you, visitor parking can sometimes be tricky because many of the neighborhood's streets between Red River and Guadalupe require a parking permit from the City of Austin. Visitor parking in North Campus is easiest west of Guadalupe, where permits are not required. Permits are not required once you go north of 38th Street into Hyde Park, either.
Due to the influx of large complexes in West Campus, the number of rental houses there has been rapidly dwindling, so if you're looking to rent a house or duplex near UT, North Campus and Hyde Park are your best bets and present the most options.
Several small neighborhood grocery stores are spread around North Campus: Red River Market (Routes 10, 110, 127, 171, and 653), Speedway Grocery (Routes 5 and 656), and Wheatsville Food Co-op (Routes 1, 3, 19, 21, and 22; consistently voted "Best Neighborhood Grocery" by the Austin Chronicle's readers). There are also three large grocers within a half mile of the neighborhood. Most UT Austin students buy groceries at the Hancock Shopping Center H-E-B, which is just a few blocks away at 41st Street and Red River (Routes 10, 338, and 653). For natural and gourmet foods, H-E-B's Central Market (Routes 338 and 803) is excellent, and it's located on Lamar Blvd very close to the northwestern corner of the neighborhood. Randalls on 35th Street (Routes 19, 21, 22, and 491) is another option close by, especially if you live on the western side of North Campus. A couple farmers' markets are within a mile of the neighborhood. On Wednesdays from 3:00 p.m. to 7:00 p.m., you can buy local produce and enjoy live music at The Triangle Farmers' Market on 46th Street between Guadalupe and Lamar (Routes 1, 5, 338, 656, 681, 801, 803, and 990). And on Sundays from 10:00 a.m. to 2:00 p.m., another farmers' market takes place in Mueller near the beautiful Lake Park (Route 37).
North Campus has ample dining options that appeal to UT students. For a quick meal, try Thundercloud Subs (the Nada Chicken and California Club are fabulous), Torchy's Tacos (the Fried Avocado and Democrat are best-sellers), P. Terry's (considered by many to be the best local fast food joint in town; makes a delicious veggie burger), Jimmy John's Gourmet Sandwiches (delivers sub sandwiches faster than any competitor), Snarf's Sandwiches (you can order their perfectly toasted sandwiches online or with their mobile app), Salvation Pizza (New-Haven style thin crust pizza that rivals the pie made by Home Slice; they deliver, too), and Five Guys Burgers and Fries (the grilled onions on the burgers are awesome). If you're not in the mood for fast food, check out FoodHeads (menu items are made from scratch, and the potato salad is a must-try), Trudy's (an iconic campus area Tex-Mex restaurant that opened in 1977; known for its Chorizo Stuffed Chicken, stuffed avocado, and Mexican Martinis), Tom's Tabooley (Mediterranean vegetarian eatery founded in 1977), Sao Paulo's Restaurante (Brazilian food; the Bobo de Camarao is an Austin Chronicle award-winning dish), Zen (Japanese sushi; don't miss Third Thursday for amazing prices), and Aster's Ethiopian Restaurant (has both vegetarian and meat dishes).
When you're craving ice cream, Amy's on Guadalupe is the place to go. This Austin institution was founded by a former UT student in 1984 and serves the best ice cream in the city.
As a student-oriented neighborhood, it's no surprise that several coffee shops and bars are in North Campus. The best coffee shops are Spider House (a hipster hangout with an amazing outdoor patio; also has a wide selection of beers on tap and three outdoor stages for live music and comedy shows) and La Tazza Fresca (voted "Best Campus Area Coffeehouse Treats" by the Austin Chronicle). If you're looking for some alcohol rather than caffeine, head over to Crown & Anchor Pub (award-winning campus area bar with a dog friendly patio), The Varsity Pizza & Pints (daily beer specials and 30 taps), Posse East (in business since 1971, this sports bar becomes packed on UT home football gamedays and has been named one of the "Best College Football Bars" in the nation by The Daily Meal), and Nasty's (their weekly hip-hop dance party is a student favorite). Or, if you're planning your own party, swing by Party Barn Beverages, the neighborhood's drive-through beer and wine store.
North Campus residents have many nearby shopping options. For starters, the neighborhood is adjacent to West Campus and the famous Drag (the portion of Guadalupe Street that runs along the edge of campus), which has a number of popular shops such as Urban Outfitters, Tyler's, Buffalo Exchange, Nice Kicks, 23rd Street Artists' Market, and the University Co-op (there's also a Co-op at Dean Keeton and Medical Arts St). The nearby Hancock Shopping Center H-E-B is surrounded by businesses like Petco, RadioShack, Sears, Twin Liquors, Bath & Body Works, GNC, and (just across Red River Street from the shopping center) Austin Vintage Guitars. The stores at The Triangle (e.g. Office Max and The Vitamin Shoppe) are also frequented by many UT students, as is The Gap near Central Market. One mile north of the northeast corner of the neighborhood, you'll find the Mueller Retail Center, which has more than 25 stores, restaurants, and services. For hardware and homeware to get your place set up for the new school year, look no further than Breed & Co., a neighborhood favorite since 1970.
A couple Walmart Supercenters are located within four miles of North Campus. There's one Walmart to the northwest at Anderson Lane and Burnet Road, which can be reached on Routes 3, 5, and 803, and there's another Walmart to the northeast on Norwood Park Blvd that's on Routes 7 and 492. Target has a store at the Capital Plaza Shopping Center, just two miles from the northeast corner of the neighborhood, and you can reach it on Routes 37 and 492. If you're relying on public transit and you live on the western side of this neighborhood, it would be easier to visit the Target at Ben White Blvd and South Lamar using Route 338 or 803.
North Campus also has many student essentials within the neighborhood, such as a CVS Pharmacy, FedEx Office Print & Ship Center, hair stylists, laundromats (go to Spincycle Washateria at Guadalupe and 35th and enjoy complimentary Wi-Fi while you wait on laundry), drycleaners, banks, bike shops (Ozone Bike Dept. at Guadalupe and 32nd and Clown Dog Bikes at San Jacinto and 29th are the best; UT's Orange Bike Project is also in the area), and a U.S. Post Office (located at Lamar Blvd and 37th Street on Route 338; the Hyde Park Post Office on Speedway, accessible via Routes 5 and 656, may actually be closer to you depending on where you live). Since it's a short walk from the neighborhood to UT Austin, the UT Libraries are closer than any of the Austin Public Library branches, but there are actually four public library branches within a 1.5 mile radius of the neighborhood: Howson, Yarborough, Faulk Central, and Carver.
Several worthwhile parks are in and around North Campus. Waller Creek meanders through the neighborhood and a 9 acre hidden gem called Eastwoods Park, which is used by many UT students as a place to study, walk a dog on the trail, or play a game of tennis or basketball. The creek also flows through Hancock Golf Course, which has a one mile loop trail and is situated adjacent to North Campus on 38th Street. Central Park, which has a beautiful 5/8 mile loop trail around a lake with turtles and birds, also begins at 38th Street. A couple blocks east of Guadalupe and 30th, you'll find Adams Hemphill Park, a 10 acre green space that has a couple basketball courts and swings. Last but not least, if you live in the southwest corner of the neighborhood, you'll be right across the street from the lovely Shoal Creek Trail, which you can take all the way to Lady Bird Lake if you're ambitious.
Prefer to work out indoors? North Campus has an Anytime Fitness, which is the world's largest gym franchise and has some of the "Best Trainers to Pump You Up!" according to the Austin Chronicle. The nearby Hancock Shopping Center also has a 24 Hour Fitness.
The annual 37th Street Christmas Lights Spectacular is a great tradition in North Campus that has been featured on Good Morning America, and people from all over the city come to see it. Many of these lights actually decorate the street throughout the year. Another popular destination in the neighborhood is Arcade UFO (a Japanese-style game center).
Finally, parents can rest assured knowing there's a Top 100 Hospital (St. David's Medical Center) and fire station (30th and Cedar St) in the neighborhood in case there's ever an emergency. For a non-emergency doctor's appointment, University Health Services is within walking distance of North Campus.
Some of the most popular North Campus apartments and condos include Gables Central Park Apartments, Buckingham Square Apartments, Texan North Campus Apartments (technically this is in Hyde Park), Sabina Apartments, Benchmark Condos, The Pointe Condos, Mint Urban Apartments, Great Oak Apartments, Grand Oak Apartments, Castle Arms Apartments, Guadalupe 31 Condos, 3200 Duval Condos, University Quarters Apartments, River Oaks Apartments, Palisades Apartments, Speedway Condos, 38th Street Flats, Oakview Condos, and 31st Street Condos.
Click here to search North Campus apartments and rentals, or here to learn about Hyde Park which is adjacent to and very similar to North Campus. Or, if you're a buyer, seller, or landlord, please visit the respective page designed for you. You can also search North Campus homes for sale here and view campus area market statistics here.