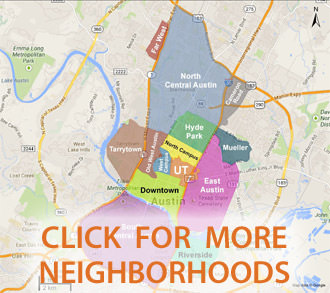 Mueller is a new award-winning master planned green community located just a couple miles from UT Austin, and the secret is now out – it's an awesome place to live! This mixed-use urban village, which sits on the 700-acre site that was vacated when Austin's airport moved to southeast Austin in 1999, has been designed with sustainability and livability in mind. Mueller is still in the middle of its growth spurt (the first residences were built in 2007), but it is well on its way to becoming home to 13,000 people, 13,000 employees, 4 million square feet of office and retail, 5,700+ modern homes (comprised of apartments, houses, condos, and townhouses), and 140 acres of parks, trails, and open space. Given its trajectory toward becoming an important central Austin hub, Mueller has been designated as a Town Center in Austin's comprehensive plan.
It's a perfect location for a UT Austin commuter that desires a close, quiet, and amenity-rich community. Most UT students living in Mueller choose to live at one of the apartment communities by Mueller Lake Park, and from that location, it's just a 10 minute ride to campus on the Capital Metro Route 37 bus. Driving your own car would shave a couple minutes off that estimate, while biking would add just a few minutes (it's a lovely bike ride through a neighborhood called Cherrywood; bike maps available here). If you happen to live closer to Manor Rd, you would take Route 20 instead to UT. Both Routes 20 and 37 enter campus on Robert Dedman Dr near the Butler School of Music and School of Law, and then go south on San Jacinto Blvd once at the football stadium (click here to learn about UT bus routes). Getting to the airport is also easy – hop on Route 350 which travels along the western border of the neighborhood, or you can drive to the airport in 15 minutes.
Mueller is home to a diverse crowd – UT students and faculty, young professionals and families, downtown executives, and retirees. Residents here are active (the greenways and trails are very popular, as are the bike lanes), environmentally conscious (many homeowners compost, and Mueller has more electric vehicles per capita than any other U.S. neighborhood; this community also has the highest concentration of owner-installed solar rooftop panels in the country), friendly (front porches located close to sidewalks really encourage you to meet your neighbors), and tech-savvy (many Mueller residents volunteer their homes for the Pecan Street Project and monitor the energy consumption patterns of their appliances online). A large number of Mueller residents own dogs, and it's no wonder – Mueller is pedestrian-oriented and has trails galore, complete with water fountains for dogs and dog waste stations.
Even if you're on a tight budget, don't rule out this neighborhood until you determine your eligibility for the Mueller Affordable Program (which aligns with the City of Austin's SMART Housing Program guidelines). Mueller aims to include people from all walks of life, so approximately 25% of the homes are reserved specifically for households earning less than the area's median income. This affordable program includes both for-rent and for-sale homes, and they are interspersed into the community so nobody can tell which homes are part of the program. For-rent home are available to people making no more than 60% of Austin's median family income (MFI), while for-sale homes are available to people making no more than 80% of the MFI.
You will sign a conventional lease here and typically pay for all utilities, while parking is free. In Mueller, the minimum lease term is usually 6 months for apartments and 12 months for houses and townhomes.
The state of the art H-E-B at Mueller grocery store made its 2013 debut in the neighborhood's Market District, located at East 51st St. and Berkman Dr (Route 320). This 83,000 square foot store was designed to consume 80% less electricity and 50% less water than a typical grocery store. It also has two recharging stations for electric vehicles and a gas station that sells ethanol-based E85 car fuel. If you rely on public transit and live closer to Route 20 or 37, both of those buses go to another H-E-B near Manor Rd and Highway 183 located a couple miles northeast of the neighborhood.
If you like buying local, check out the Mueller Farmers' Market, which takes place every Sunday from 10:00 a.m. to 2:00 p.m. at the historic Browning Hangar in the neighborhood's beautiful Lake Park. The market features live music every week, making it that much more enjoyable to browse the offerings of more than 40 Texas vendors who sell seasonal produce, meats, cheeses, baked goods, specialty foods, and even some handmade products.
Mueller will soon have an Alamo Drafthouse Cinema, as Aldrich Street and the Town Center District are being developed to emulate downtown's Second Street District, with extra-wide sidewalks, trees, and urban density. In the meantime, you can still watch a movie at the neighborhood's Blue Starlite Drive-In, which Condé Nast called "one of the coolest outdoor theaters in the world". Several times each year, you can enjoy movies and music for free at the outdoor Mueller Lake Park Amphitheater. The Austin Studios have also placed Mueller on the motion picture map – since 2000, hundreds of movies, television programs, and commercials have been filmed at the 20-acre site, including "True Grit" and "Miss Congeniality". A scene from "Results" was also filmed in the neighborhood. If you ever catch a show downtown or like to explore the entertainment districts, it's easy to get back home late at night – just board the #485 Night Owl bus, which can take you from 6th Street to Mueller Lake until a little after 3:00 a.m.
There are countless shopping options in and around the neighborhood. The Mueller Retail Center has more than 25 businesses, with brands such as Old Navy, Lane Bryant, Marshalls, rue 21, Staples, PetSmart, Best Buy, Home Depot, and Bed Bath & Beyond. The center also has numerous services like Wells Fargo, Visionworks, HCS Salon & Spa, and Dental Smiles. Additional services are available in the Market District – for example, Capitol One, Neighbors Emergency Center (the nearby Texan Urgent Care provides emergency care at much lower prices), Great Clips, and Envy Nails. Target is less than a mile north of Mueller, and you can take either Route 37 or 320 to get there. There's also a nearby Walmart Supercenter, just 2.5 miles north.
Mueller dining options are also plentiful. Cafe Mueller, located at the H-E-B entrance, has outstanding food (the brisket is especially tasty) as well as a bar, a stage for live music, free Wi-Fi, and a cool misting system around its outdoor seating area (indoor seating is also available). MOD Pizza is an excellent option in the Market District, and it's become known as the "Chipotle of Pizza" – delicious customizable pies are made on an assembly line with friendly and efficient service (you can also order online). Paco's Tacos is another local favorite, and their breakfast menu (which is served all day) is amazing. The Mueller Retail Center has eateries such as la Madeleine Country French Café, Chipotle, Jamba Juice, Starbucks, Which Wich, and Yo So Cool, while the Market District has other offerings like Subway, Torchy's Tacos, Verts, and Xian Sushi and Noodles. Across from the Browning Hangar, you'll find the Mueller Trailer Eats food court. Here, you can grab a bite to eat from some delicious food trucks such as Short Bus Subs, Whole Food's Market's Food Truck, Elixir Coffee, and Bud's PoBoys. Finally, you can satisfy your sweet tooth at the neighborhood's Tiff's Treats, an Austin favorite.
20 percent of the neighborhood's 700 acres are being preserved for parks, trails, and open space, and the Mueller community will have added more than 15,000 trees when complete. The crown jewel of the neighborhood is Lake Park, which has a gorgeous 6.5 acre lake filled with ducks and a couple fountains. This park also features a loop trail, an open air amphitheater and stage, and a jogger stretching area. Mueller Greenways are 10-foot-wide hike and bike trails made of decomposed granite that surround the neighborhood and connect it to adjacent Austin parks such as Bartholomew Park, Patterson Park, and Morris Williams Golf Course. The iconic Mueller Solar SunFlowers, which create renewable energy and light up at night, are located on the neighborhood's western border trail. Mueller residents also love to gather at Ella Wooten Park, which has a Junior Olympic-sized pool, a basketball court, a playscape with one acre of open grass, and shaded picnic areas.
If you prefer to exercise indoors, there's a 24 Hour Fitness a mile west at the Hancock Shopping Center and a Gold's Gym a couple miles north near Austin Community College's Highland Campus.
Mueller may be a new neighborhood, but it has revived a tradition that dates back to the 1960s - lighting the Mueller Tower with "NOEL" during the holiday season. The former Mueller Airport traffic control tower has been preserved and is one of the last pieces still standing from Austin's old airport. The annual lighting is a festive occasion attended by hundreds of people.
A few other noteworthy developments in Mueller include The University of Texas Health Research Campus, Dell Children's Medical Center of Central Texas, and The Thinkery. Mueller is less than a mile from two branches of the Austin Public Library – the Willie Mae Kirk Branch (Route 350) and Windsor Park Branch (Route 37). It's also less than two miles from two U.S. Post Offices - one in Cameron Road (Route 320) and one in Hyde Park.
Some of the most popular Mueller apartments and condos include Mosaic at Mueller Apartments, Elements at Mueller Apartments, Mueller View Apartments, AMLI at Mueller Apartments, and Greenway Lofts Condos.
Click here to search Mueller apartments and rentals. Or, if you're a buyer, seller, or landlord, please visit the respective page designed for you. You can also search Mueller homes for sale here.