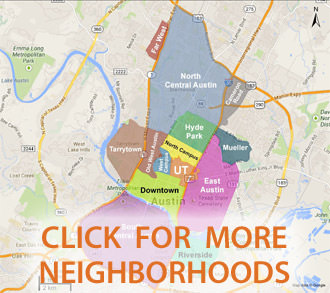 Hyde Park is a charming, quiet, and centrally located neighborhood just minutes from UT Austin and Downtown. Students and locals consider it one of the city's most desirable areas to call home. Hyde Park has a laid-back vibe, beautiful tree-shaded avenues, the closest full-size grocery store to UT, scores of terrific local businesses, and ample parking. Apartments and condos are sprinkled around the area, but Hyde Park is mostly comprised of houses and duplexes. It has good public transit options, while also being bike and pedestrian friendly.
Listed in the National Historic Register, Hyde Park was originally built in the 1890s as Austin's first suburb. This quintessential Old Austin neighborhood is rich in history, and it even hosted the State Fair of Texas in the late 1800s until the fair was moved to Dallas. Hyde Park's beautiful early 20th century architecture has been well-preserved, thanks in part to the Hyde Park Neighborhood Association.
Numerous Capital Metro buses are available to take you from Hyde Park to UT and vice versa: Routes 1, 3, 5, 7, 10, 19, 653 Red River UT Shuttle, 656 Intramural Fields UT Shuttle, 681 Intramural Fields/Far West UT Shuttle, 801, 803, and 990 (click here to learn about UT bus routes). The MetroRapid Routes 801 and 803 (which travel along Guadalupe St and Lamar in Hyde Park, respectively) provide the quickest rides to campus (along with free Wi-Fi onboard), and they drop off at Dean Keeton Street as well as the UT West Mall. If you live near Guadalupe, you could also get home from UT (or downtown) late by using the #481 Night Owl bus (the last departure times from downtown and campus are a little after 3:00 a.m. each night). The neighborhood is so close to UT, though, that many students prefer to bike to class. Depending on where you live in the neighborhood, the bike ride to UT takes between 3 and 12 minutes. It's a nice gradual downhill ride to campus, and the most bike-friendly streets leading to UT are Speedway, Duval, and Red River (bike maps available here). Students typically do not walk to campus from Hyde Park unless they live around 38th Street (in which case it's a 15 to 20 minute walk). The Austin Bergstrom International Airport is six miles southeast of Hyde Park, and it's accessible via Route 350.
Hyde Park is most popular with UT students, faculty, young professionals, and families. Students who reside here are typically graduate students or upperclassmen who value convenience and peace and quiet. The neighborhood is especially convenient for students who have classes on the north side of campus (e.g. communications, engineering, law, public affairs, psychology, and fine arts). Residents of Hyde Park are known for being health-conscious and eco-friendly. Walking or running through the neighborhood, often with a dog, is a favorite pastime of folks living here.
The neighborhood's greatest building boom occurred between 1924 and 1935, so most of the homes have historical charm and some are designated historic landmarks. Many landlords have renovated their houses, so there are some rental opportunities for a more modern look. There is also a small stock of new construction built in accordance with the Hyde Park Historic District guidelines. Most apartments in Hyde Park were either built in the 1960s to 1970s, or built since 2000. As a renter here, you will sign a conventional lease and typically pay for all utilities (although there are some notable exceptions to this utilities rule). The vast majority of properties in Hyde Park require a 12 month lease. For a 6 month or semester lease, you'll have the best selection in neighborhoods a little farther from UT, such as Far West, Cameron Road, Riverside, North Central Austin, and South Central Austin. Apartments in Mueller also offer 6 month leases. If you'd prefer a neighborhood that has all newer construction homes and apartments, without sacrificing the great proximity to UT Austin, check out Mueller.
Some properties in Hyde Park have a double occupancy up-charge of $50 to $100 per month for two roommates sharing a bedroom. This type of up-charge becomes much less common as you go farther away from campus (for example, this extra fee is very rare in Far West).
Resident parking is free in Hyde Park, and visitor parking is typically easy because none of the streets in this neighborhood require a permit (many North Campus streets, on the other hand, do require a parking permit).
Hyde Park has the best and most convenient grocery shopping options of any neighborhood near UT Austin. Most UT students buy their groceries at the Hancock Shopping Center's H-E-B, which is located on the eastern side of the neighborhood at Red River and 41st Street (Routes 10, 37, 320, 338, and 653). This eastern section, bounded by Duval St, 45th St, I-35, and 32nd St, is collectively known as "Hancock". The western side of the neighborhood is home to H-E-B's natural and gourmet foods grocery store – Central Market (Routes 338 and 803). Central Market is a foodie's paradise, and it also has a cafe, a patio with occasional live music, and cooking classes. There are also a few smaller grocery stores in Hyde Park – Fresh Plus at Duval and 43rd (Route 7), Natural Grocers at Guadalupe and 39th Street (Routes 1, 801, and 990), and Avenue B Grocery & Market (built in 1909, this is Austin's oldest continuously-operated grocery store) at Avenue B and 44th (Routes 5, 338, and 656). Hyde Park residents also love to buy produce and foods at The Triangle Farmers' Market, which takes place on 46th Street between Guadalupe and Lamar (Routes 1, 5, 338, 656, 681, 801, 803, and 990). The market is open Wednesdays year-round from 3:00 p.m. to 7:00 p.m., and you can enjoy the weekly musicians that play at the band stand while you shop.
Interested in growing some of your own organic food? Apartment dwellers with a green thumb are in luck thanks to the Hyde Park Community Garden, which is open to anyone. For $40 per year, you can have your own 4' by 8' plot of gardening land. Sunshine Community Gardens, the largest community garden in Austin, is also near Hyde Park, located just west of The Triangle.
When you feel like eating out, you don't have to venture far, as Hyde Park has some outstanding restaurants. The Omelettry has legendary gingerbread pancackes and an old-fashioned ambience that Austinites have enjoyed since 1978. For Tex-Mex, you'll want to try Maudie's Triangle (some of the best queso and enchiladas in town), Freebirds World Burrito (fun atmosphere, and arguably better food than Chipotle), and the Tacodeli on Lamar (tasty breakfast tacos). As far as sandwiches, it's tough to beat the ones served at New World Deli (try the "Jersey" Sloppy Joe) and Jason's Deli (top off your meal with free ice cream). If a burger is your kind of sandwich, the legendary In-N-Out Burger is at Airport Blvd and 46th Street. Delicious meals are also available at Hyde Park Bar & Grill (named "Top 15 French Fries in America" by People Magazine) and Mandola's Italian Market (their spaghetti carbonara and gelato are wonderful). To satisfy your sweet tooth, visit Quack's 43rd Street Bakery (one of the best bakeries in Austin; they supply pastries to iconic places like Whole Foods Market and Mozart's Coffee Roasters), Yogurt Planet (add fresh fruit to their cake batter flavor for a blissful treat), and Sweet Ritual (incredible vegan ice cream). For vegetarian fare, Mother's Cafe & Garden (one of the first all-vegetarian restaurants in Austin; their cashew tamari dressing and artichoke enchiladas are timeless) and Maoz Vegetarian (the salad bar and sweet potato fries are big draws) are both excellent.
Hyde Park also has several worthwhile coffee shops and bars. The best coffee shops in the neighborhood include Flightpath (great baristas; this place prides itself on being quiet, making it a perfect study spot), The Coffee Bean & Tea Leaf (has a drive-through that's always popular in the morning), and Dolce Vita Gelato & Espresso Bar (the hummus plate and sorberitas are terrific). Two of the most prominent neighborhood bars are Flying Saucer (Austin's largest variety of beers from around the world; known for their U.F.O. Club, daily fire sale, and Trivia Night every Tuesday) and WingzUp (with 25 HDTVs and nightly food and drink specials, it's a great place to watch a big game).
A couple Walmart Supercenters are located within three miles of Hyde Park. There's one Walmart to the northwest at Anderson Lane and Burnet Road, which can be reached on Routes 3, 5, and 803, and there's another Walmart to the northeast on Norwood Park Blvd that's on Routes 7 and 492. Target has a store at the Capital Plaza Shopping Center, just a half mile from the northeast corner of Hyde Park, and you can reach it on Routes 37 and 492.
There are three main shopping areas within the confines of the neighborhood. The Hancock Shopping Center on the east has businesses such as Petco, RadioShack, Sears, Twin Liquors, Chase Bank, Bath & Body Works, GNC, Massage Envy, TGF Hair Salon, and (just across Red River Street from the shopping center) Austin Vintage Guitars. Central Park on the west has brands like The Gap, Origins, Francesca's Collection, Paper Place, and Zinger Hardware. Just a few blocks up the road from Central Park is The Triangle, a magnificent 22-acre mixed-use community that has businesses like Office Max, The Vitamin Shoppe, Salon Intuitions, Mesa Cleaners, and Austin Dental Works. All three of the above shopping centers have eateries, too. Just east of Hyde Park lies another shopping hot spot – the Mueller Retail Center, which has more than 25 stores, restaurants, and services.
Hyde Park residents often lead active lives, and the neighborhood complements that lifestyle with a number of different parks and trails. Hancock Golf Course, the oldest course in Texas and former home of the Austin Country Club, is a focal point of the neighborhood, and it has a one mile trail that goes around it where you'll see people jogging or walking their dog. Another lovely place for a walk is the Central Park trail behind Central Market - the 5/8 mile loop trail goes around a lake with turtles and birds. Shipe Park (named after Monroe Shipe, who originally developed the neighborhood) is a local favorite that is home to the area's annual pool party and movie in the park. Shipe is just big enough to offer something for everyone – a couple basketball courts, tennis courts, small swimming pool, picnic facilities, and a playground. Finally, the UT Intramural Fields (aka Whitaker Fields) are at the northern end of Hyde Park at Guadalupe St and 51st St, and this 35-acre site features 18 football and soccer fields, eight softball diamonds, and 40 tennis courts.
If you'd rather work out in a gym, there are several available in Hyde Park. 24 Hour Fitness is at the Hancock Center, Hyde Park Gym can be found at Guadalupe and 42nd, and Fitness 360 is located at The Triangle.
A U.S. Post Office known for its friendly staff is in the middle of the neighborhood at Speedway and 43rd Street (Routes 5 and 656). If you live on the western side of the neighborhood, the Post Office on Lamar Blvd in North Campus may be closer to you (Route 338). The closest public library is 2/3 of a mile west of the northwest tip of Hyde Park – the Yarborough Branch is on Hancock Drive just off Burnet Rd, and can be reached on Routes 3 and 803.
Hyde Park has several other attractions and traditions. For example, the neighborhood's Elisabet Ney Museum is on the National Register of Historic Places and is a place to learn about a sculptor and the earliest art studio built in Texas. The intimate and award-winning Hyde Park Theater showcases indie plays by established and emerging playwrights. It also curates FronteraFest, the largest performance festival in the Southwest. Perhaps the most notable tradition is the annual Hancock Golf Course luminaria trail – on a couple evenings every December, thousands of luminarias are set up and illuminated around the golf course, creating an awe-inspiring display.
The neighborhood's Heart Hospital of Austin is available 24/7 for any emergency, even if it isn't heart related. There are two additional emergency rooms located within a half mile of Hyde Park – Seton Medical Center and St. David's Medical Center, as well as an urgent care clinic on the western border of Hyde Park (MedSpring).
Some of the most popular Hyde Park apartments include Oak Park Apartments, The Triangle Apartments, Duval Villa Apartments, Texan North Campus Apartments, Tanglewood North Apartments, North 40 Apartments, Su Casa Apartments, Echo Apartments, Aspenwood Apartments, District 53 Apartments, The Parker Apartments, and Pecan Grove Apartments.
Click here to search Hyde Park apartments and rentals. Or, if you're a buyer, seller, or landlord, please visit the respective page designed for you. You can also search Hyde Park homes for sale here.