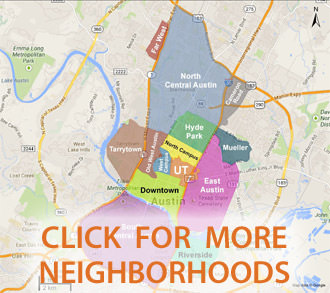 Far West is a popular neighborhood for UT students seeking a budget-friendly apartment and quiet area on a UT Shuttle route. And don't let the name fool you – Far West is named after the main boulevard that runs through it – it's not that far from UT! The vast majority of the apartments in this neighborhood are located on the Far West UT Shuttle (Capital Metro Route 661), and as long as you live next to a UT Shuttle stop, your commute to campus should average between 20 and 25 minutes. After making four stops in the neighborhood, the UT Shuttle goes directly to campus without making any intermediate stops along the way. It goes to campus and back on weekdays (dropping off near Dean Keeton St and Whitis Ave – very close to the Communication and Pharmacy buildings as you can see here), while UT students can take Route 681 (Intramural Fields/Far West UT Shuttle) on Sundays. Route 19 also goes to campus, and it runs seven days a week (click here to learn about UT bus routes). If you prefer to drive, you're looking at a 10-15 minute drive to UT outside of rush hour, and if you're up for a biking adventure, it's a 30-35 minute bike ride to campus (bike maps available here).
On the topic of commuting, the future looks very bright for people traveling from Far West to downtown, thanks to the $200 million MoPac Improvement Project. MoPac is the highway that Far West commuters use, and once this project is completed in late 2016, buses will have free access to a new express lane on each side where traffic always runs at least 50 m.p.h. thanks to dynamic tolling. Cars will also have access to the express lane for a variable fee.
Far West is the central area of the larger Northwest Hills subdivision, which is known as an affluent, close-in suburb with mature trees, spacious lots, and outstanding schools. Far West is a combination of homes, business offices, and apartments, and you'll find students, young professionals, and families living here. The majority of the houses here were built in the late 1960s through the late 1970s, while the apartments were built in the 1970s and 1980s and renovated since 2000. Many parts of the neighborhood have striking Hill Country views, and while the student-oriented apartments of Far West are mostly concentrated just off the main boulevard, the streets are lined with trees and landscaping, so the area still retains a peaceful park-like atmosphere (there's even the occasional deer-sighting).
Far West apartments are usually more affordable and spacious than what you'll find within walking distance of UT Austin. And, unlike most of West Campus, there's ample and free resident and visitor parking. The complexes here are very pet-friendly (some just have a nominal pet rent such as $10/month).
This is a great area for roommates looking to share a bedroom since apartments here typically do not have a double occupancy up-charge (unlike neighborhoods bordering UT, which have many properties that charge an extra $50 to $100 a month for a shared bedroom).
If you're graduating in December or studying abroad and just need a semester or 6 month lease, this neighborhood is an excellent option, as many properties allow short-term leases (within a mile or two of UT, on the other hand, the vast majority of properties require a 12 month lease). Far West properties use a conventional lease, and you should expect to pay for all utilities.
It's perfectly feasible for a UT Austin student to live in Far West without owning a car. In the center of the neighborhood (walking distance from most of the apartments) is a shopping center that includes an H-E-B grocery store. The center also has businesses such as CVS Pharmacy, Starbucks, Great Clips, a UPS Store, a Wells Fargo bank (as well as a Chase and Bank of America ATM), and several restaurants. If you live in one of the main apartments near the boulevard, you can also walk to the Old Quarry Branch of the Austin Public Library, which is just next door to a U.S. Post Office.
There's a variety of delicious restaurants to explore in Far West. Kneaded Pleasures is a well-known cafe and bakery in the main shopping center that serves all three meals of the day and has been recognized by the Austin Chronicle in its annual Best of Austin Awards. Whether you're in the mood for a sandwich, salad, specialty coffee, or gelato, it's a must-visit. Also in the heart of the neighborhood, the Boulevard Bar & Grill is a great place to grab a Cajun burger and watch a big game or play pool and darts. The neighborhood's Chinatown is one of Austin's most respected Chinese restaurants and has long lines for dim sum on the weekends. Outstanding Tokyo style sushi is served at Musashino, which is considered by many to be just as good as the renowned Uchi restaurant. If you visit Musashino, you must try their avocado kama. The neighborhood also has classic student favorites such as El Arroyo (try their queso) and Austin's Pizza, as well as a Torchy's Tacos with a drive-through nearby on Spicewood Springs Road. There's even a Hopdoddy's Burger Bar (they support the local agricultural economy by using fresh beef from Texas ranches) less than a mile east, or why not order a meal while enjoying a film at Austin's #1 movie theater - Alamo Drafthouse (both are accessible via Route 19)? Far West is also less than two miles from the legendary County Line Bar-B-Q, a long-time tradition for UT students that overlooks Bull Creek and whose barbecue is so tasty they ship it around the country.
If you need to do back-to-school shopping, Route 19 will also take you from Far West to the Walmart Supercenter that's less than a mile away at Burnet Road and Anderson Lane. If you prefer Target over Walmart, there are a couple Target stores within two miles of the neighborhood, and they're both on Research Blvd. Less than two miles north is the Arboretum at Great Hills, a beautiful shopping center that's home to more than 40 fine shops and restaurants such as The Gap, Barnes & Noble, Whole Foods Market, and Cheesecake Factory. And The Domain, a gorgeous outdoor mall that many are calling "Austin's second downtown," is less than three miles north.
Far West is in close proximity to several worthwhile parks. The best one is arguably the 477 acre Lower Bull Creek Greenbelt, which is less than two miles west. The Greenbelt is known for its world-class 3.5 mile hike and bike trail, picturesque waterfalls, babbling brooks, and swimming holes. A quarter mile south of Far West is Allen Park, which has some great facilities for picnics, an enjoyable hiking loop, and panoramic views of the city. If you venture a half mile east, you'll come across Shoal Creek running alongside Northwest District Park, which has an attractive duck pond, a pool, baseball field, two basketball courts, four tennis courts, and a volleyball court. If you're out and about in Far West on the weekend, keep your eye on the enormous hill at Murchison Middle School along the boulevard - you may get to see hang-gliders practicing.
Do you enjoy working out at a gym? If so, check out Anytime Fitness and LA Fitness located a mile east on Anderson Lane or 24 Hour Fitness located two miles north in the Arboretum.
Some other amenities in the neighborhood include the Austin Regional Clinic (urgent care clinic), Austin Emergency Center (24 hour emergency room), and the Jewish Community Center of Austin.
Some of the most popular Far West apartments and condos include The Ridge Apartments, Northwest Hills Apartments, Westdale Parke Apartments, Bent Oaks Apartments, Westdale Creek Apartments, Acacia Cliffs Apartments, Woodhollow Apartments, Juniper Springs Apartments, Oak Ridge Apartments, Westdale Pointe Apartments, Le Montreaux Apartments, The Place at Terracina Apartments, Townhomes of Northwest Hills, Shadow Oaks Townhomes, and The Arbors Condos.
Click here to search Far West apartments and rentals. Or, if you're a buyer, seller, or landlord, please visit the respective page designed for you. You can also search Far West homes for sale here.