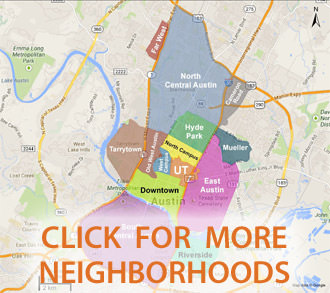 East Austin is a cultural melting pot with excellent proximity to UT Austin and Downtown and, as a rule of thumb, lower apartment prices than West Campus and North Campus. The area has seen a resurgence recently and has undergone a lot of redevelopment, making it a very livable (and still affordable) part of the city. It's now home to some amazing restaurants, a vibrant arts and entertainment scene, and new condos and master-planned communities that sit next to historical older homes that give the area its character. Forbes called East Austin one of America's "hippest hipster neighborhoods", based on its walkability, coffee shops per capita, eateries, food trucks, and local farmers' markets. Indeed, East Austin has replaced South Congress and Travis Heights as the city's hipster home base. Austin Community College's Eastview Campus and Huston-Tillotson University are also located in the neighborhood.

The most convenient locations for UT students in this neighborhood would be somewhere along or near Manor Rd or Martin Luther King Jr Blvd. Manor Rd has bike lanes and sidewalks on both sides, and is the most popular choice for UT students living in East Austin. It's an easy bus or bike ride to campus from Manor, which turns into Dean Keeton St near Interstate 35 (I-35 is an overpass above, so you never have to deal with the highway when going to UT). Manor is the most bike and pedestrian friendly street in East Austin that goes to UT, and it has some great restaurants and cafes, so it's no wonder that college students and young professionals are attracted to the area. Some people have even called the Manor Rd area the "next Hyde Park".
A number of Capital Metro buses will take you from this neighborhood to UT Austin: Routes 18, 20, 22, 37, 465, and 641 East Campus UT Shuttle (click here to learn about UT bus routes). MetroRail also has a couple stops in this neighborhood (MLK, Jr. and Plaza Saltillo Stations, which both have a MetroBike Shelter), making it a breeze to get downtown. East Austin is known for having a lot of bicycle riders, so biking to campus is certainly a viable option (bike maps available here). If you plan on driving to UT and live directly east of it, you can go to campus and back without ever needing to get on the most congested road in the city (Interstate 35). The #485 Night Owl bus can bring you back to East Austin from downtown late at night (the last bus leaves 6th Street a little after 3:00 a.m.), and the neighborhood also has a bus that will take you to the airport – Route 350.

The typical East Austin apartment was either built in the 1960s or 1970s and renovated within the past decade, or built after 2000. Most condos you'll find in this area are modern and built since 2000. The typical East Austin house is a bungalow or ranch-style that was built in the first half of the 20th century, or a modern home built after 2000. This area has historically been a working-class neighborhood, and it's especially popular with students, artists, musicians, young professionals, and some families. You will sign a conventional lease here and should expect to pay for all utilities, but parking is free.
Here's a summary of some of the most notable and popular areas in East Austin:
Cherrywood (also known as French Place) is the most popular East Austin area for UT students. It's bordered by Wilshire Blvd to the north, Manor Rd to the south, Airport Blvd to the east and I-35 to the west. This pedestrian-friendly neighborhood has tree-lined streets, charming older homes, and apartments that are mostly concentrated along Manor.
Blackland: Located between Manor Rd and Martin Luther King, Jr. Blvd, this area is super convenient for UT students and just as close to the heart of campus as West Campus.
Delwood: Located north of Cherrywood, this area was built in four phases from 1946 to 1965. It has smaller homes on tree-lined streets.
East 11th and 12th Street corridors: The City of Austin has invested millions on improvements to 11th Street and is working on 12th Street, because as the Central East Austin Master Plan indicates, "the future of downtown is tied to the future of Central East Austin".
Rosewood: This area is south of MLK, Jr. Blvd and has great diversity and proximity to downtown.
Chestnut: Adjacent to Rosewood on its northwest corner, this area has a grid of small homes and is a prime location for accessing both the campus and downtown.
Plaza Saltillo: The 10.5 acre plot of land next to the Plaza Saltillo train station on East 5th Street will soon be developed into 800 residential units (including 200 affordable apartments), a 60,000 square foot grocery store and 52,000 sq. ft. of ground floor retail and restaurant space, and 1.7 acres of parkland. Elaborate murals decorate the streets where family-owned restaurants sit next to modern tech firms and condos.
Mueller: This award winning master-planned community is one of the hottest parts of Austin, with modern homes and amenities galore. Mueller deserves its own page – click here to learn more about it.
East Austin residents have convenient access to many grocery stores. An H-E-B is located in the Govalle Shopping Center at East 7th St and Pleasant Valley Rd (Routes 4, 17, and 300), and there are four additional H-E-B stores close by: if you live in the northern part of the neighborhood, it may be more convenient to visit the H-E-B at Mueller (Route 320), Hancock Shopping Center (Routes 37 and 320), or the one near Manor Rd and Highway 183 (Routes 20, 37, and 323). And if you live in the southern section of the neighborhood, you might prefer to visit the H-E-B plus! in Riverside (Routes 20, 300, 320, and 490). There's a Fiesta grocery store in the shopping center at I-35 and 38th ½ St (Routes 22, 37, and 320) – this chain caters to Hispanic customers and also has an excellent international section. in.gredients – America's first zero-waste, package-free grocery store - is located on Manor Rd (Route 20) and is definitely worth a visit.
Community gardens are thriving throughout East Austin and provide a great opportunity for residents to grow organic food. The UT Concho Community Garden (which has plots available for UT student organizations as well as the general public) and UT Micro Farm are located along the eastern border of campus. Other popular gardens in the area include the Festival Beach Community Garden, Blackshear Neighborhood Garden, St. David's Foundation Community Garden, Alamo Community Garden, New Day Community Garden, and Kenny Dorham's Backyard.
This area also has more farmers' markets than any other neighborhood close to UT Austin. The HOPE Farmers Market (Sundays from 11:00 a.m. to 3:00 p.m.) at Plaza Saltillo Station has been recognized by the Austin Chronicle as the "Best Farmers Market". The MLK, Jr. Station has the SFC Farmers' Market on Tuesdays from 3:00 p.m. to 7:00 p.m. If you live near the northern end of the neighborhood, the nearby Mueller Farmers' Market (Sundays from 10:00 a.m. to 2:00 p.m.) is worth a visit, too. There are also a couple farms nearby where you can buy fresh produce every Wednesday and Saturday: Boggy Creek Farm and Springdale Farm.
East Austin has many great restaurants and eateries to satisfy the foodie in you. Around Manor Rd, check out Eastside Cafe (terrific restaurant in an old house, with their vegetable and herb garden), Elaine's Pork and Pie (adjacent to Eastside Cafe; try the frozen lemonade), Mi Madre's (delicious Tex-Mex; their breakfast tacos are a must-try), in.gredients (this grocer also serves ready-to-eat foods that you can enjoy on the picnic tables out front), Salty Sow (known for its duck fat fries and deviled eggs), Haymaker (perfect place to watch a game), Dai Due (one of the 10 best new restaurants in the U.S. in 2015 according to Bon Appetit), and Thunderbird (great coffee and beer; a popular spot for students to study and use the free Wi-Fi). Cherrywood Coffeehouse is another neighborhood favorite – in addition to the typical coffee shop fare, this place also has yoga classes, comedy nights, and live music. On MLK Jr. Blvd, Bennu Coffee is open 24/7 and makes a great study spot, with free Wi-Fi and plenty of outlets for computers. Austin Daily Press is also on MLK and has Free Beer Fridays and an excellent Pineapple Express. Blue Cat Cafe, Austin's first adoptable cat cafe, has made its home on the east side as well. Around the 11th and 12th Street corridors, you'll want to try Franklin Barbecue (Bon Appetit named it "Best BBQ in America" and they sell out every day), East Side Pies (some of the best thin-crust pizza in Austin; they deliver, too), and Taco-Mex (tasty breakfast tacos). Going farther south in the neighborhood, there are all kinds of worthwhile restaurants and bars on East 6th Street – the most popular is East Side King at the Liberty Bar (amazing food from Top Chef winner Paul Qui). Down on Cesar Chavez St, go to Juan In a Million for breakfast sometime – this restaurant has been an Austin favorite since 1980 (try the legendary Don Juan taco, which was featured in "Man vs. Food" on the Travel Channel).
Excellent shopping is nearby at the Mueller Retail Center (Routes 37, 320, and 485), which has more than 25 businesses such as Old Navy, Lane Bryant, Marshalls, rue 21, Staples, PetSmart, Best Buy, Home Depot, and Bed Bath & Beyond. The center also has numerous services like Wells Fargo, Visionworks, HCS Salon & Spa, and Dental Smiles, as well as a number of eateries. Additional shopping is available near Mueller at the Capital Plaza Shopping Center (Routes 37, 320, 485, and 492), which has brands like Target, Walgreens, and Ross. Just across Interstate 35 on 41st Street, there's the Hancock Shopping Center which has many businesses besides H-E-B such as Sears, 24 Hour Fitness, Petco, RadioShack, and numerous restaurants. There are three Walmart Supercenters within a five mile radius of the neighborhood, and the Walmart to the north on Norwood Park Blvd can be accessed via the #492 bus. The H-E-B plus! just south of the neighborhood can be your one-stop for electronics, toys, housewares, grilling and outdoor merchandise, party supplies, apparel, and more.
Parks and trails abound in East Austin. The Cherrywood area has a gem in Patterson Park, which boasts basketball courts, tennis courts, a volleyball court, BBQ pits, picnic tables, and a skate spot. Adjacent to Cherrywood is Mueller, which has a stunning Lake Park and well-maintained trails. Rosewood Park has a wonderful swimming pool, as well as tennis courts and picnic facilities. In the southern part of the neighborhood, the 508 acre Edward Rendon Sr. Park at Festival Beach sits on the beloved Hike and Bike Trail and has some of the largest and prettiest shade trees on the trail. Metz Park – also right by the river – has excellent athletic fields, and the splash pad play-area is especially popular with kids. East Austin is also right next to Morris Williams, a renovated municipal golf course in terrific condition. Finally, if you enjoy biking through neighborhoods, the northern tip of East Austin known as Delwood 2 (just north of Airport Blvd) is known for its resident peacock population that can be seen strolling down the street and wandering from yard to yard.
Want to take a fitness class? Head over to Eastside Austin Elite at the Govalle Shopping Center and try one of their many classes such as CrossFit or yoga.
Getting to Texas Longhorns sporting events such as football, basketball, baseball, soccer, track, couldn't be easier, as East Austin is less than a half mile from all of these athletic venues. Other amenities and things to do in East Austin include the Millenium Youth Entertainment Complex (skating, bowling, arcade), visiting some of the city's finest artists as part of the East Austin Studio Tour, catching the Cinema East outdoor summer film series, joining hundreds of people on a Social Cycling bike ride, and strolling through the Cherrywood Art Fair.
To see and hear some rich stories on East Austin and its history, check out UT's East Austin Stories.
Two branches of the Austin Public Library are located here – the Carver Branch (Routes 2 and 6) and Terrazas Branch (Routes 17, 21, and 22). East Austin also has a U.S. Post Office, located on East 6th St near Chicon St, which is accessible via Routes 4, 21, 22, and 320 (depending on where you live, the Post Offices at UT Austin or in Hyde Park may be closer to you).
According to UT's Master Plan, most of the University's future construction and growth will take place on the eastern half of campus, so chances are that East Austin's popularity among UT students will continue to increase. In 2015, the University shared more details about its vision for east campus through the UT Austin East Campus Master Plan.
If there's ever an emergency, two 24 hour emergency rooms are located nearby just west of I-35 – University Medical Center Brackenridge and St. David's Medical Center. There's also an urgent care clinic in the adjacent Mueller neighborhood – Texan Urgent Care.
Some of the most popular East Austin apartments and condos include Volume Apartments, Elan East Apartments, Eleven Apartments, Corazon Apartments, Delwood Station Apartments, French Place Condos, East End Flats Condos, Sandstone Apartments, Eastside Commons Apartments, AMLI Eastside Apartments, Chestnut Commons Condos, Willowbranch Lofts Condos, Twentyone24 Condos, Este Condos, and 41 Waller Lofts Condos.
Click here to search East Austin apartments and rentals. Or, if you're a buyer, seller, or landlord, please visit the respective page designed for you. You can also search East Austin homes for sale here.