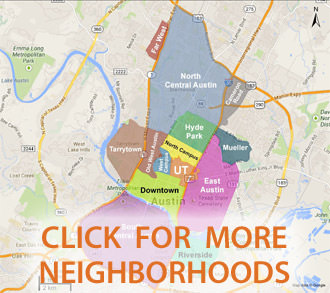 Downtown Austin is an exciting place to live, work, and play. It's the central business district of the city, and living in a downtown apartment or condo is an experience you won't find anywhere else. Bordering UT, this community seamlessly combines government, business, entertainment, arts, and city living to create a uniquely Austin vibe. More than 300 downtown retailers sell everything from designer sneakers to office supplies. New, modern high-rises are common downtown, but you'll still find many charming historical buildings well-preserved, especially in the neighborhood's six National Register Historic Districts. Downtown is also home to the Austin Community College (ACC) Rio Grande Campus.
Austin leads all other U.S. cities in terms of the percentage of its overall workforce working downtown. 21% of all jobs in the 5-county metropolitan area are located in the downtown and adjacent UT Austin campus area. As a result, downtown has more public transit options than any other neighborhood in Austin. Given the great transit options, and the fact that downtown is the most walkable neighborhood in the city, many residents here choose to not own a car. In addition to having light rail, downtown has approximately half of the Capital Metro bus routes. More than 20 buses go from downtown to UT: Routes 1, 3, 5, 7, 10, 18, 20, 21, 22, 100 (this route also goes to the airport, which is just five miles southeast), 103, 110, 142, 171, 663 Lake Austin UT Shuttle, 801, 803, 935, 982, 983, 985, 987, and 990 (click here to learn about UT bus routes). The majority of these routes travel north and south on Lavaca St and Guadalupe St, respectively, which have transit priority lanes downtown. The MetroRapid Routes 801 and 803 provide the quickest rides to campus (along with free Wi-Fi onboard), and they drop off at the UT West Mall as well as Dean Keeton Street. Residents and visitors also utilize the car2go, Zipcar, and Austin B-cycle programs to get around. Biking to UT takes 0 to 15 minutes depending on your starting point. The most bike-friendly routes to campus involve either taking the Shoal Creek Trail north and then heading east on MLK Blvd, or just biking up Trinity St all the way to campus (bike maps available here).
Despite downtown's excellent proximity to UT Austin, it is pricey to live here, so UT students usually prefer other neighborhoods that are adjacent to campus such as West Campus, North Campus, and East Austin. Downtown living is most popular with young professionals and empty-nesters. Most condos and apartments in the area were either built from the 1960s to 1980s and then renovated since 2000, or built after 2000. Residents of downtown high-rise apartments and condos often have spectacular views of the city, Lady Bird Lake, Texas State Capitol, and the majestic hill country. The vast majority of houses here were built during the first half of the 20th century and are located either west of Lamar Blvd in an area called Clarksville or within a few blocks of West Campus in Judges Hill. These residential pockets with a high concentration of houses are more traditional neighborhoods with tree-lined streets. Meanwhile, the area east of Lamar Blvd and south of 15th Street is considered the heart of downtown and has bustling entertainment districts, restaurants and shopping galore, and a wide array of corporate and government office buildings.
When renting in downtown, typically you'll sign a conventional lease and should expect to pay for all utilities. Some complexes, especially in the heart of downtown, also charge for resident parking.
Here's an overview of Downtown Austin's most popular areas, going in a roughly clockwise loop from the area just south of West Campus:
Judges Hill: Bordered by Rio Grande Street, 15th Street, MLK Blvd, and Lamar Blvd, this largely residential area is a short walk to both UT Austin and Austin Community College. It's a great option for UT and ACC students that want to be close to West Campus, but prefer a quieter environment.
Uptown / Capitol District: From the Capitol to MLK Blvd, this district has a number of administrative office buildings (including the UT Austin Administration Building), as well as a few restaurants and bars. The Governor's Mansion borders the southwest corner of the Capitol grounds. Uptown has a palpable buzz of excitement on UT home football game days, as it's the most popular tailgating spot.
Red River Cultural District: The Red River stretch of pavement that runs from 6th Street to 12th Street is quite possibly the most rocking part of downtown Austin. Well-known music venues and nightclubs of a more "alternative" variety dot the street.
6th Street: World-famous entertainment district, with more than 75 restaurants, bars, clubs, and boutiques filling this lively nine-block radius. On weekends, the street shuts down to create a pedestrian-friendly nightlife destination, which is a favorite among UT Austin students.
Congress Avenue Historic District: Known as the "Main Street of Texas", this avenue provides breathtaking views of the Capitol and is lined with restaurants, museums, theaters, shops, and the most expensive office space in the state of Texas. Downtown's U.S. Post Office is located at Congress and 9th Street (accessible via more than a dozen different bus routes, such as Routes 801 and 803).
Rainey Street Historic District: Once a quiet residential street, this area in the far southeast corner of the neighborhood was rezoned as part of Austin's Central Business District in 2004. Since then, old bungalows have been renovated and converted into bars and cocktail lounges with spacious backyards and porches. High-rise condos and apartments have also been developed in the area.
Second Street District: A five-block area that has become one of Austin's most well-known dining and shopping districts.
Warehouse District / Fourth Street: This classier downtown alternative to 6th Street is located just north of the Second Street District. Many of the area's bars and restaurants are in renovated, antique warehouses.
Market District / West End: Located around 6th Street and Lamar Blvd, this retail district has several Austin landmarks such as the original Whole Foods Market, Waterloo Records, and BookPeople (Texas's leading independent bookstore).
Seaholm District: Formerly an industrial area, this part of downtown from Lady Bird Lake to 5th Street and from Lamar Blvd to San Antonio Street is being redeveloped into a residential and retail destination. The area will be anchored by a luxury condo tower, with a Trader Joe's grocery store, dining, shops, and 1.5 acres of open space just footsteps away.
Clarksville Historic District: Founded in the 1870s by freed African American slaves, this charming area is rich in history and has been insulated from some of the large-scale development happening nearby. Clarksville has plenty of greenery, and many restaurants and shops are within walking distance.
You can stay in the neighborhood to buy groceries. The Whole Foods Market flagship store is located in the Market District, while the largest farmers' market in Texas is just a few blocks east and takes places on Saturdays at Republic Square Park from 9:00 a.m. to 1:00 p.m. In 2015, Trader Joe's opened a brand new 11,500-square-foot grocery store less than a quarter mile southeast of Whole Foods, and it offers free one hour garage parking. When you just need a few essentials, there are five small Royal Blue Grocery stores in the heart of downtown, and there's a Fresh Plus Grocery as well in Clarksville at W Lynn St and 13th St. There are also several H-E-B grocery stores near downtown – there's one a couple miles east on East 7th Street (Routes 4 and 17), a couple miles south on South Congress (Routes 1, 486, and 801), and a couple miles north on East 41st St at the Hancock Shopping Center (Routes 10 and 338).
If you have a green thumb or want to grow some organic produce, check out the Clarksville Community Garden. Located behind the historic Haskell House, this garden was founded in 2004 and provides 4' by 12' plots of land to its members.
There's no shortage of entertainment options downtown, and the neighborhood's 78701 zip code has more bars per capita than any other zip code in the country. 6th Street's long strip of bars, music venues, and restaurants is often the first thing that comes to mind – for a rowdy college atmosphere, stay east of Congress Ave (The Blind Pig Pub and Maggie Mae's are student favorites and have the largest rooftop decks on East 6th), and for more of a young professional crowd go west of Congress (219 West has great tapas and an upstairs lounge overlooking downtown). There are several outstanding movie theaters downtown, such as the iconic Paramount Theatre on Congress Avenue that was built in 1915, the upscale Violet Crown Cinema in the Second Street District, and Alamo Drafthouse at the Ritz (6th Street). Sixth Street also has a terrific vaudeville theater called Esther's Follies, which has been entertaining folks with comedy and magic since 1977. For a memorable live music experience, it's hard to beat Stubb's Bar-B-Q on Red River, which has been recognized as one of the nation's top live music venues by Billboard and Rolling Stone magazines. Catching an ACL TV show taping at the Moody Theater is also a very special experience. The premier downtown sports bars include Cover 3, Little Woodrow's (has a happy hour every day), and The Tavern (in business since 1933, this landmark has 50 HDTVs and serves mouth-watering white wings). Maggie Mae's has a 26' jumbo screen on the rooftop and is another popular place to catch a big game.
Austin has been recognized by Hotels.com and Travel + Leisure for being one of America's best cities for foodies, and there's a plethora of great dining options downtown. If you're in the mood for Mexican or Tex-Mex, head over to La Condesa (their elotes and Hongos y Huitlacoche are very popular), Valentina's Tex Mex BBQ (located behind Star Bar; don't miss their brisket tacos), or the original Z'Tejas Southwestern Grill (scrumptious cornbread and wild mushroom enchiladas). Great American food is served at Moonshine Patio Bar & Grill (Austin's favorite Sunday brunch spot), Nau's Enfield Drug Store (an Austin institution since 1951; awesome milkshakes), Texas Chili Parlor (the Frito Pie is a must-try), Hut's Hamburgers (can't go wrong with the Ritchie Valens), Frank (get the Jackalope and waffle fries), 24 Diner (delicious breakfasts), Bess Bistro (owned by Sandra Bullock; the fried green tomatoes are fantastic), and Galaxy Café (sweet potato fries are excellent). For some ethnic variety, try Chez Nous (cozy French bistro; the Menu du Jour is a great deal, and the Chocolate Mousse is delicious), Koriente (Asian fusion; the hummus roll and miso soup are terrific), The Clay Pit (Indian food; check out their lunch buffet), Easy Tiger (German bakery with amazing pastries and beer cheese; play some ping-pong while you're there), The Jalopy Rotisserie & Press (try their Son Hong and veggie chips), and Café Crêpe (a wonderful French restaurant, known for their breakfast and brunch).
If you want to study or work on your laptop at a coffee shop, Caffe Medici in Clarksville is your spot. You may also enjoy getting some work done at the Faulk Central Library (Guadalupe and 8th Street; it's on more than a dozen bus routes).
Big-box stores are within easy reach of downtown. There are three Walmart Supercenters within a five mile radius – the Walmart on Ben White Blvd near I-35 is three miles south, the Walmart at Anderson Lane and Burnet Road is five miles north (Routes 3 and 803), and the Walmart on Norwood Park Blvd is five miles northeast (Route 7). There's also a Target three miles south at Ben White Blvd and South Lamar (Routes 383, 484, and 803), and another Target that's three miles northeast at the Capital Plaza Shopping Center (Routes 37 and 485).
When it's time for a study or work break, downtown has scores of parks and trails where you can unwind. Republic Square Park is home to Austin Parks Foundation's Movies in the Park series and Yoga in the Park (both are free). The foundation also brings Giant Chess to the public at Woolridge Square every Saturday afternoon, and Woolridge hosts some CorePower Yoga classes as well. Waterloo Park is a quiet, relaxing spot that features Waller Creek. This creek flows all the way to the southern border of the neighborhood, where you can enjoy one of the best parts of Austin – the Lady Bird Lake Hike and Bike Trail. If you'd like to reach the lake's southern shore without taking the whole trail around, the Pfluger Pedestrian Bridge near Lamar Blvd provides a popular and scenic shortcut. Shoal Creek, the other creek that meanders its way through downtown, goes through Duncan Park, which has a BMX bicycle track. West Austin Neighborhood Park in Clarksville has one of the few fenced-in dog parks in the city. On a hot day, you can cool off at the splash pad located at the Mary Frances Baylor Clarksville Park. Finally, if you really want to pamper yourself and relax, make a massage appointment at milk + honey, which has been named the top day spa in Texas by Les Nouvelles Esthétiques.
Prefer to exercise indoors? Downtown has a Gold's Gym, YMCA, CrossFit, and a number of smaller boutique gyms.
There are countless other things worth seeing and doing downtown. Some of the highlights include seeing the 1.5 million Mexcian Free-Tailed Bats emerge from underneath the Congress Bridge at dusk, touring the largest state capitol in the country, and learning about Texas history at the Bullock Texas State History Museum. Across the street from the Bullock is the best museum in the city according to the Austin Chronicle – the Blanton Museum of Art. And last but not least, you will not want to miss some of the festivals that take place downtown, such as South by Southwest and the Pecan Street Festival.
If there's ever an emergency, the University Medical Center Brackenridge is located in the neighborhood.
Some of the most popular Downtown Austin apartments and condos include AMLI Downtown Apartments, Ashton Apartments, Greystar Red River Flats Apartments, The Austonian Condos (tallest residential tower west of the Mississippi River), Railyard Condos, 360 Condos, Spring Condos, The Milago Condos, Gables West Avenue Apartments, W Residences Condos, 6th Street West Apartments, and Gables Park Plaza Apartments.
Click here to search Downtown apartments and rentals. Or, if you're a buyer, seller, or landlord, please visit the respective page designed for you. You can also search Downtown homes for sale here.