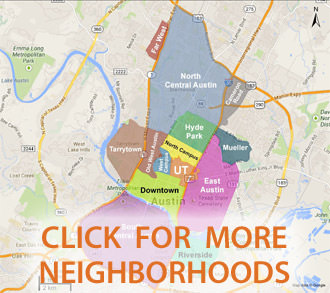 The Cameron Road area is only a couple miles from UT Austin, yet it offers some of the best apartment prices of any neighborhood on a UT bus route. Most UT students living in this area take a bus to campus, and if you plan to use public transit, you should live near a Capital Metro Route 7 or 37 bus stop (click here to learn about UT bus routes). By car, it's a straight shot down I-35 to campus and only takes about 10 minutes outside of rush hour traffic. And if you want to bike, the fastest route would be to travel west on E 51st St and then go south on Red River St or Duval St (which turns into San Jacinto Blvd once you reach UT) all the way to campus; assuming you live in the southern part of this neighborhood, it's only a 3.1 mile / 18 minute bike ride to UT (bike maps available here). It's not uncommon for UT students to take a class or two at Austin Community College (ACC), and ACC's Highland Campus is only a half mile west of Cameron Road. ITT Technical Institute and Virginia College are also in the neighborhood. This area has a bright future and is destined for continued growth and development, as the southern section has been designated as a future Regional Center in Austin's comprehensive plan.
Cameron Road has historically attracted graduate students, quieter undergraduate students, young professionals, and working class families. The typical apartment here was built in the 1980s and has undergone at least one renovation. If you're on a tight budget, you should definitely consider this neighborhood (along with Far West, Riverside, and East Austin).
You will sign a conventional lease in this area. Typically, Cameron Road renters pay for all utilities (there are a few exceptions where one or two utilities are included), and parking is included for free.
If you're graduating in December or studying abroad and just need a semester or 6 month lease, this neighborhood is an excellent option, as many properties allow short-term leases (within a mile or two of UT, on the other hand, the vast majority of properties require a 12 month lease).
Cameron Road is also less than one mile away from the state of the art H-E-B at Mueller grocery store and cafe, which you can access by hopping on the #320 bus. This H-E-B is part of the ever-growing Mueller Market District, which has a variety of eateries such as Subway, Torchy's Tacos, and Verts, as well as services like a Capitol One bank, Neighbors Emergency Center (the nearby Texan Urgent Care provides emergency care at much lower prices), Great Clips, and River Rock Dental.
There are many additional worthwhile places to eat and drink in the area. There's a cozy coffee shop in the neighborhood called Corona Cafe that has free Wi-Fi and is good for breakfast or lunch. The popular Nomad Bar is known for having trivia every Thursday night, karaoke on the first Saturday of every month, and it has a tasty Sunday brunch. Student favorites Whataburger and Sonic Drive-In are also in the neighborhood. If you like Mexican food, head over to Aguilera's Mexican Restaurant (great value authentic Mexican food; open for breakfast, lunch, and dinner); El Rinconcito Del Sabor (a terrific hole in the wall); and Costa Del Sol (be sure to try their pupusa – it's delicious). If you're craving a burger, don't miss Hill-Bert's - an old school burger joint founded by a University of Texas student in 1973. Hill-Bert's was the first in Austin to deliver burgers, and they still deliver! Other options for red meat in this neighborhood include Fran's Hamburgers (they serve breakfast, too), and Texas Land & Cattle Steak House.
If you find yourself downtown or on Austin's famous 6th Street in the evening, the #485 Night Owl bus will bring you back to Cameron Road until a little after 3:00 a.m.
Shopping options are plentiful for Cameron Road residents. The Capital Plaza Shopping Center lies in the southern heart of the neighborhood, and it has a variety of merchants like Target, Ross, Walgreens, and Dollar Tree. Just a quarter mile north of the neighborhood is a Walmart Supercenter, and it's accessible via Routes 7, 485, and 492.
Cameron Road is also just a half mile north of the enormous Mueller Retail Center (Routes 37, 320, and 485), which has apparel stores such as Old Navy, Lane Bryant, Marshalls, and rue 21, as well as many restaurants, services, and retailers like Staples, PetSmart, Best Buy, and Bed Bath & Beyond.
If you value parks and green spaces, there are several viable options in and around Cameron Road. Buttermilk Branch Greenbelt is an 18 acre space that has a small greenbelt with a couple bridges, four basketball courts, a volleyball court, a multipurpose field, picnic tables, and a couple playgrounds. Bartholomew District Park is less than a mile away, and this 57 acre park with a creek is rich with amenities such as a disc golf course, a magnificent swimming pool, baseball and softball fields, basketball courts, tennis courts, a splash pad, and more. Living in Cameron Road means you're also just a 10 minute bike ride from the wonderful trails and parks at Mueller.
If you prefer to work out in a traditional gym, there's a Gold's Gym just a quarter mile west near ACC's Highland Campus.
A U.S. Post Office is in the neighborhood at Blackson Ave and Bennett Ave (Routes 7, 300, and 320). Finally, if you want to study at a library, the St. John Branch (Routes 7 and 300) of the Austin Public Library is located right next to Buttermilk Park, and the Windsor Park Branch (Routes 37 and 300) is also very close.
Some of the most popular Cameron Road apartments include Wildwood Apartments, Heritage at Hillcrest Apartments, Magnolia Court Apartments, MacKenzie Pointe Apartments, Villas of La Costa Apartments, and City Point Apartments.
Click here to search Cameron Road apartments and rentals. Or, if you're a buyer, seller, or landlord, please visit the respective page designed for you. You can also search Cameron Road homes for sale here.